Up In Flames, by Nicole Williams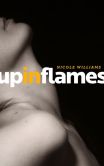 Overview
One smokejumper with a dark past.
One small town girl with a bright future.
One summer that will forever change them both.
They're going . . .
UP IN FLAMES
Elle's life couldn't possibly get any more small town. She was raised in the same home as the two generations before her were, her family owns the iconic downtown cafe, and she's been dating the pastor's son since she was allowed to go on her first date at sixteen.
Cole's life couldn't possibly get any larger. He's tried. Roaming from town to town for the past three summers as a smokejumper, Cole dreads the thought of putting down roots. The only thing he avoids more than that is settling down with one woman, especially when there are as many willing women as there are trees in the forest he jumps out of planes to save.
Elle Montgomery's life is going one way. And Cole Carson's is going the opposite. There's no reason their paths should ever intersect, even in a small town in central Washington.
But summer in the Methow Valley has other plans for Elle and Cole. After an awkward run-in at the local swimming hole, Elle tries to keep away from the guy who looks at her like she's already lying beneath him in bed. She fails. Cole is about as successful at staying away from the girl who seems immune to his charms.
As the summer heats up, and tensions between Elle and Cole run high, he begins to realize there's more he's attracted to than Elle's body, and she discovers there's a lot more to the man that jumps out of planes into raging forest fires than meets the eye.
UP IN FLAMES is a New Adult Romance intended for mature readers due to steamy content and saucy language.
______________________________________________________
12:15 am……
I am laying in my bed with my nook reading, wishing my husband would fall asleep so I can I turn off the T.V. and not have any little distraction from this book.
1:00 am….
Nook's battery is dead, I put it down and think oh Ill read it tomorrow.
2 minutes later…
I have to find out what happens next, I take my nook downstairs, plug it in and get my cell phone out.  I know, I'll just read it on my droid.
2:15…
This is so good, I know I need to sleep I have to be up in 5 hours.  One more sentence.  One more.
And that is how my night went reading Up in Flames.  I love Nicole Williams.  Everything she has written, I have loved.  This story does not disappoint.  I was putting this one off a bit and I thought, why I love her stuff.
Up in Flames, takes sexy into a complete different depth of heat.
This isn't the type of story that is so complex that I had to find out what happens next.  No what kept me up all night reading is the way Nicole Williams dives right into a character that makes you need to know what they feel next.  Loved this.