Review & Giveaway ~~ Ride Steady, A Chaos Novel, by Kristen Ashley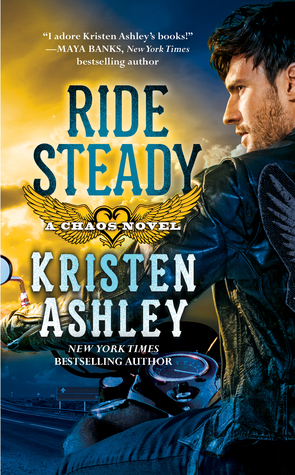 Amazon link: http://amzn.to/1dqyFBn
Synopsis:
The ride of her life . . .
Once upon a time, Carissa Teodoro believed in happy endings. Money, marriage, motherhood: everything came easy—until she woke up to the ugly truth about her Prince Charming. Now a struggling, single mom and stranded by a flat tire, Carissa's pondering her mistakes when a vaguely familiar knight rides to her rescue on a ton of horsepower.
Climb on and hold tight . . .
In high school, Carson Steele was a bad boy loner who put Carissa on a pedestal where she stayed far beyond his reach. Today, he's the hard-bodied biker known only as Joker, and from the way Carissa's acting, it's clear she's falling fast. While catching her is irresistible, knowing what to do with her is a different story. A good girl like Carissa is the least likely fit with the Chaos Motorcycle Club. Too bad holding back is so damned hard. Now, as Joker's secrets are revealed and an outside threat endangers the club, Joker must decide whether to ride steady with Carissa—or ride away forever . .
My Review 4 stars
This book started incredibly strong. Carson Steele, aka Joker grew up in a horrendous environment. Despite his tragic past, the man he grows into is a beautiful, strong, full of heart type of man. I loved him. He embodies so much of what I love an alpha character to have.
He not a dick.
I'm a huge Kristen Ashley fan and sometimes her males can come off like dicks, he is not one. (This is brutally honest, but the attitude works for all of her men) Joker may be up there with Hawk Delgado, Tack Allen and Luke. Just saying, Joker is an awesome man.
This is Carissa's story of a second chance at romance. I enjoyed her and how she was honest with Joker. She doesn't sugar coat what's going on with her. She lays her feelings out there and it's refreshing.
I do wish the pace moved faster. I was full steam ahead with this at first and then after a bit, I slowed down because the pace slowed down. It also felt a tad anticlimactic.
The love story here is so beautiful, that despite me wishing it was a bit shorter and things moved a bit faster I really loved it.
Kristen Ashley writes great love.
Q&A with Kristen Ashley
Which do you love more, beginning to write a book or finishing one? Please explain why.
Definitely beginning. Oh yes, absolutely the beginning! It's also the best part of reading a romance, when the hero and heroine meet, the dance they start to dance, getting to know each other, the banter or the tension or the passion.
Don't get me wrong, I dig a delicious ending. I am dedicated to providing the best epilogue I can give to any book because I want my readers to go away with a **sigh,** feeling entirely certain the hero and heroine are living a happily ever after.
But the meeting…and then those early moments…love it. Love!
What's one piece of writing advice you've received that has stuck with you?
Language is dynamic. There are no rules. You can do anything you want with language. We do not write like Beaowulf. Language is ever-evolving. So don't get stuck on the rules. Just write.
What can you tell us about Carissa and Joker that we won't find in the book?
In the style of his mentor, although Carissa can cook, Joker does most of the cooking…and gets very good at it!
Which heroine do you think you're most like? Who would you want to be more like?
There's a little bit of me in nearly every heroine I write. I do that to give them a basis in reality so that (hopefully!) readers can identify with them. So when I get this question, it's more, which of my heroines am I least like. And those would be Sylvie fromCreed and Ally from Rock Chick Revolution. And thus Sylvie and Ally would be the heroines I would most wish to be more like—because they're badass and fearless.
What's next for you?
Next up is an independently published title, the finale of my 'Burg series, Hold On, the story of Garrett Merrick and Cher Rivers. I hope to have that out by the end of summer, early autumn. Then readers will be getting more Chaos with High and Millie's story told in Walk Through Fire which will release on October 27. After that, I haven't decided. But I must since I'm starting a book on Monday…I just don't know which one it'll be!
Kristen Ashley was born in Gary, Indiana, USA. She nearly killed her mother and herself making it into the world, seeing as she had the umbilical cord wrapped around her neck (already attempting to accessorise and she hadn't taken her first breath!).
Kristen grew up in Brownsburg, Indiana but has lived in Denver, Colorado and the West Country of England. Thus she has been blessed to have friends and family around the globe. Her posse is loopy (to say the least) but loopy is good when you want to write.
Kristen was raised in a house with a large and multi-generational family. They lived on a very small farm in a small town in the heartland and existed amongst the strains of Glenn Miller, The Everly Brothers, REO Speedwagon and Whitesnake (and the wardrobes that matched).
Needless to say, growing up in a house full of music, clothes and love was a good way to grow up.
And as she keeps growing up, it keeps getting better