#Review ~~ ???????? ??????? ?? ??? ?????? ??? ????? ?????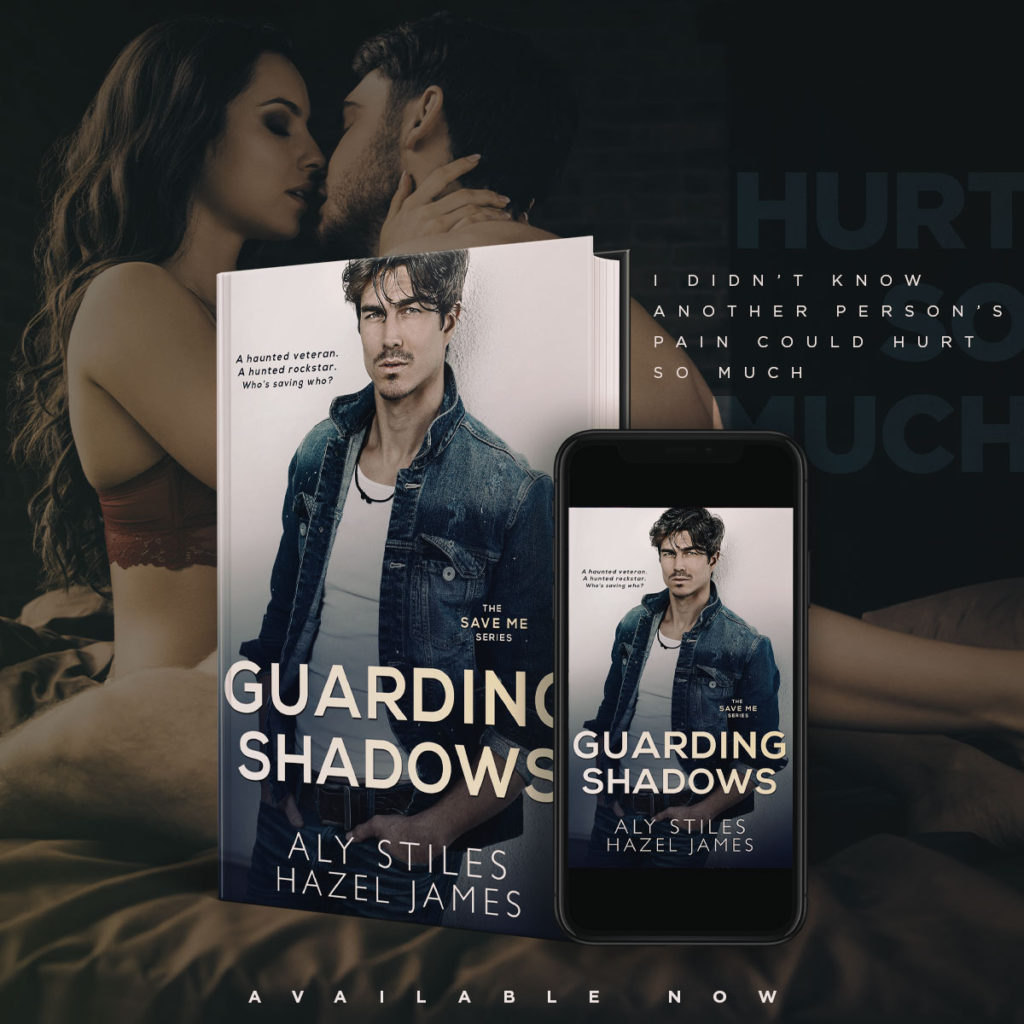 ⭐ℕ?? ℝ??????⭐
???????? ??????? ?? ??? ?????? ??? ????? ????? ?? ???? ??? ???? ???? ?????? ?????????!
??? ????? ?? ???? ?? ???? ???ℎ ?????? ??? ?????… ??? ???? ???? ?ℎ??? ????? ?? ???? ℎ????. ?
#OɴᴇCʟɪᴄᴋ:
http://mybook.to/GuardingShadows
All I can do is hold on. Wait. Love. Hope.
I just can't find the words to do this story justice. All the feels, all the angst, all the #RockstarRomance we love! Aly Stiles & Hazel James have taken a story and mixed in versions of reality to create a soulful, touching and heart breaking romance. Guarding Shadows combines the lead singer/guitarist for an up-and-coming band with an Army veteran. Tanner and Quinn's journey will leave you holding your breath as you see them navigate the uncertain waters of Tanner's demons, Quinn's rising stardom and possible stalker.
A chance meeting between internet sensation Quinn Wylder of the band Detour Wylder and Sergeant Tanner Clarke have sparks flying. Tanner serves as her tour guide as she spends the day at the military base in Germany and then entertains the troops. He is fascinated and drawn to her. 
There is so much about Tanner to love. He is dedicated and kind. As he is forced to accept medical retirement the adjustment to civilian life proves to be a challenge. He feels guilty, terrified and haunted.
 "Homeless" and "hopeless" are only one letter apart, and right now they mean the same thing.
Quinn, oh beautiful Quinn.  She has such an amazing heart. Open and inviting. Her approach to life will leave you smiling. She is so perceptive. So full of love. So giving and hopeful. It is no wonder that Tanner fell hard for her! Their chemistry together is explosive! 
Guarding Shadows is so well written. Aly Stiles gives a short explanation in the beginning of the book that sheds light on why they chose a veteran and what the connection to the story is. Some of the content is heavy and angsty but does not come off that way at all. It just takes your heart and rips it apart. I loved the end. Without spoilers it was JUST.SO.GOOD! Aly Stiles & Hazel James – you can collaborate anytime and I will read it! 
Reassurance is a funny thing. Sometimes the words don't matter as much as the person saying them…
5 Stars
#AuthorAlyStiles #AuthorHazelJames #RockStarRomance #CrashingEast #BreakingSouth #RisingWest #FallingNorth #GuardingShadows #SaveMe #Love #Angst #HotAndSexy #Romance #TannerAndQuinn
An emotional rockstar and military romance that can be read as a standalone.
Her demon stalks her.
His demons haunt the shadows of his head.
Internet star turned rocker Quinn Wylder never asked to be famous. So when she starts receiving disturbing messages while on tour with her new band, her reluctant dream quickly becomes a nightmare.
Army veteran Tanner Clarke never asked to be medically retired. But when an injury and PTSD diagnosis force him out of service, he's left lost and alone in a civilian world that doesn't seem to have a place for him.
It was the perfect solution: the compassionate angel who needs security hiring the haunted warrior trained to protect. But the biggest battle they face may be one they never saw coming—guarding a body is nothing compared to protecting a heart.
GUARDING SHADOWS is a standalone Save Me novel from rockstar romance author Aly Stiles and military romance author Hazel James.
Goodreads: http://bit.ly/GuardingShadowsGR
?????? ??? ???????!
Aly Stiles
Facebook | Instagram | Newsletter
Hazel James