321 JA HUSS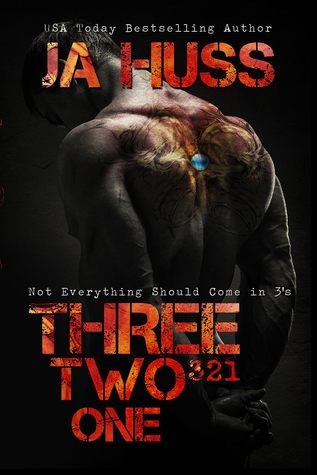 ONE GIRL
Battered, barefoot, and huddled under a bookstore awning in the pouring rain, Blue only knows one thing. After fifteen months of captivity, finally… she is free.
TWO FRIENDS
Self-made millionaires JD and Ark are not out to save anyone when they stumble upon a wet and shivering girl one early Sunday morning. But when you sell sex for a living and salvation rings your bell… you answer the call.
THREE SOULMATES
After years of searching, love lifts the veil of darkness, and three people—with three very big secrets—find themselves bound together in a relationship that defies the odds.
Or does it?
Love. Lust. Sex.
This trinity might be perfection… but not everything should come in 3's.
WARNING: This is a STANDALONE non-traditional M/F/M ROMANCE with a non-traditional ending.
**NEWLY ADDED**
Dawn's review
Warning: The book may push your sexual boundaries and make you uncomfortable. Enter with caution and an open mind! You will be rewarded….
Wow. I just finished the 321 and my head is spinning. No holds barred here!! Brilliant, smart, daring, impressive, tantalizing ….
The plot and subplots are riveting. It's a walk on the wild side!  Mysterious, suspenseful, dark and erotic, who could ask for more? The off the charts dirty sex scenes had me blushing and squirming…phew!!! (My husband thanks JA!!)
She is not one lost girl.
We are not two best friends.
We are one trinity of perfection.
The three main characters, Ark, JD and Blue will have you so engaged you can't look away. Three broken people who find each other and become whole.  The two boys so opposite, the best of both worlds, they will have you panting!  I fell for all three of them…. each of them brought such diversity to the book. Their stories will floor you! Fascinating complex characters that you crave to learn more about.
Love. It's the official beginning of our shared love.
321 is my first JA Huss book and I loved it. The book flowed effortlessly. Never a dull moment. I'm impressed with her honest writing. This book may not be for everyone… But for those of us it is for, we thank you for keeping it real!! Not all heros are clean cut…. Depravity at it's best!! Every good girls dirty fantasy!!! I just wanted more! This could have easily been a series….
Abby's review 4.5 stars
Let's start!
First read the description on this book.
Second note that I am a huge JA HUSS fan!
HUGE
So when I saw 321 I wanted to immediately one click it and then I read a review that made me read the synopsis and I was scared.
THIRD
This may push your comfort zone.
I'm not huge into m/m, however, the way this is done, it's not exactly that. Also, note the sex is dirty, forbidden and oh so enjoyable to read! I do believe my husband owes JA Huss a thank you.
Go into this book knowing it may push your sexual boundaries, but do go into it!
Tiniest critique, I wanted the pace to pick up a few times.
JA Huss writes so stinking beautifully! She turns this dark world into a seductive, heartbreaking and beautiful tale. It's filled with twists you don't see coming. Thoroughly enjoyed!
Louisa's review 4.5 stars
Holy shitballs JA Huss…
This book has blown me away.  It will be on my top 10 for the year I can tell you that with absolute certainty!
Not sure exactly how to review it.  I was dark, it was sad, it was sweet, it was uplifting, it was depressing, it was HOT, it was scary.
I think it's unfortunate for some who may skip over this book thinking it's all about sex between a threesome, yes there is sex, with three people, but that is such a small part of this book (but when they do, it's super freaking hot)…this book is about survival, love, friendship, betrayal.  Beautifully written and like Abby said – please just take the plunge – READ this book!
Find me here: http://www.newadultaddiction.com/
If you like my books and want to help support my new releases, please sign up to share a post on Facebook or Twitter here .
JA Huss is the author of the Amazon bestselling Rook and Ronin series, the epic science fiction I Am Just Junco series, and hundreds of kid-friendly science books in subjects such as biology, physics, anatomy and physiology, astronomy, and forensics. She has an undergraduate degree in equine science and a master's degree in forensic toxicology. She has never taken a creative writing class and she hopes she never will.
You can find her on Facebook if you want to chat:
https://www.facebook.com/AuthorJAHuss
You can join the newsletter and get free sneak peeks of upcoming stories:
http://eepurl.com/JVhAr