Torn By K.A. Robinson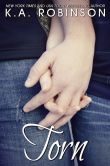 Overview 5 stars
Chloe hasn't had the best life. With a mother who is gone more often than not, she has had to raise herself. After graduating high school, she leaves to start a new life away at West Virginia University with her best friends Amber and Logan, determined to leave her demons in the past.On her first day, she meets a stranger who takes her breath away at first sight. Until she met Drake, no one had ever sparked her interest. Now this tattooed and pierced bad boy is all she can think about, no matter how hard she fights it.Falling for Drake was never part of her plans, but when it happens, things seem to do anything but fall into place.
Dealing with a tragic past, Drake has never cared about anyone else but himself and his band. But when Chloe takes the empty seat next to him in class, things start to change. Instantly drawn to her, he begins to wonder if one girl can take a cold hearted womanizer and change every part of him?
Long hidden feelings are revealed and friendships tested to the brink.
___________________________________________________________________
Review:
I loved this!  Do you know when you need to go to sleep at night so you try to even though you want to stay awake reading, and the characters cant seem to leave your imagination so you are left staying awake far longer than you intended anyway? Yep I am sleepy, suffering from a book hangover today.
Chloe is a girl with a lot of sass.  She has been damaged and is doing her best to live and keep the people around her happy.  She sees Drake for the first time and electricity is sparking from the first moments their eyes connected.  Drake is hot in the bad boy kind of way.  Chloe somehow makes him want to be a better man.
Chloe had a mom that should have been arrested and charged with abuse and neglect.  She is a terrible person who should not of had the privilege of being a mom.  Chloe finds comfort growing up in her two best friends, Logan and Amber.  Amber's mom and dad love Chloe.  The relationship between them was a reminder how families are what you make them.
Drake has also had his fair share of pain.  Despite his pain, you are still wanting him to be the solid rock for Chloe.
The sex in this was sweet and sexy.  K.A. Robinson often gave me the chills in her writing style.  This book is an all out 5 stars for me.   This has some great elements, there is a love triangle, the hot bad boy, the cool best friend and the damaged vixen. You are left anticipating the next book Twisted which has a release date in late April.
Meet the Author
K.A. Robinson was born and raised in West Virginia. I still live here, next door to two of the most wonderful parents I could ever ask for. When I'm not writing, I continuously have my nose buried deep in a good book; whether it be New Adult, Dystopian, or Paranormal. I work Full-Time at a Kubota Tractor Dealership in West Virginia. I am happily married to my High School Sweetheart, and we have a two year old son together. I have a major weakness for Starbucks and Cocoa Pebbles.