Thoughtless, S.C. Stephens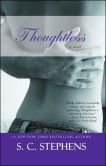 Overview
For almost two years now, Kiera's boyfriend, Denny, has been everything she's ever wanted: loving, tender, and endlessly devoted to her. When they head off to a new city to start their lives together—Denny at his dream job and Kiera at a top-notch university—everything seems perfect. Then an unforeseen obligation forces the happy couple apart. Feeling lonely, confused, and in need of comfort, Kiera turns to an unexpected source—a local rock star named Kellan Kyle. At first, he's purely a friend she can lean on, but as her loneliness grows, so does their relationship. And then one night everything changes . . . and none of them will ever be the same.
——————————————————————————————————————
Everyone is always raving about Thoughtless and Effortless and how damn sexy Kellan is.  For some reason I am just the last person the read this.  (maybe but if you haven't read it yet, check it out)
This is a story about a love triangle.  It is written in first person from Kiera's point of view.  Surprisingly, The way S.C. Stephens writes I found myself seeing things through Kellans eyes even though it was written from Kiera's.  I think that is not the easiest thing to do and I loved that about this.
Okay, Okay, I can now see what all the Kellan build up is all about.  If he is not portrayed as the sexiest rock god alive, he is also vulnerable, sweet and endearing.  Not to mention SEXY!  Did I mention that he is  SEXY!
Kiera is a woman I would kind of like to slap a little.  She is confused in her heart.  She has two of the most unbelievable men and she unintentionally hurts them both so much.  I was screaming a little at this woman, and if i did't read everything on my nook then I would have easily thrown my book, (and immediately grabbed it again to find out what happens next).
Although this story is a love triangle, the main word here is love.  This has killer lines that one could dream about hearing.
Meet the Author
S.C. Stephens enjoys spending every free moment she has writing stories that are packed with emotion and heavy on romance. She lives in Washington State with her family.