The Soul Mate & My Soul to Take, The Holy Trinity Series by Madeline Sheehan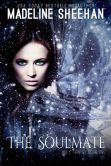 Overview
Having barely escaped a worldwide apocalyptic plague that has transformed most of humanity into flesh eating monsters, a young woman, finds sanctuary with a band of roving Gypsies who possess magical powers she'd never dreamed existed. While the remaining humans are fighting for their survival Trinity is fighting a very different battle. She is fighting for the right to choose her own destiny.
Overview
The second book in the Holy Trinity Series:
Trinity is alone.
Her husband…gone.
Her Soulmate…gone.
The Popa Clan…gone.
Her powers unstable, her future unknown, Trinity is fighting her way through a world where the only thing certain is death.
I have to admit The first two chapters when I started to read this were a little hard for me to get into, there was some type of malfunction and little rectangles were showing up all over the place.
That being said once I got over that, I was hooked.  This is a story that is post apocalyptic  It has a clan of gypsies and even a dragon.  Sounds a little out there right?
It doesn't matter that it sounds out there.  Madeline Sheehan is brilliant.  She creates such vivid realistic characters.  She had me eating out of the palm of her hand, singing her praises at how much she makes me fall in love with her writing.
At the end of the first book, I was so grateful the second was already out.  I finished the first and had so many questions in my mind.  Would we see more Gerik?  How will their soul mate connection come out to play?  How do I  feel about Xan?
The second book delivers.  God I felt for Xan.  I understood Gerik more.  Trinity becomes pretty badass.
This is one of those stories that there really is not anything like it.  Its unique.  There is however a great amount of love.  There are sexy as hell scenes.  I love that Madeline Sheehan makes her male characters super manly.  They are not the sensitive type.  That to me is a little more real.
I can't wait for the conclusion of this trilogy.  Its one of this that I will probably stalk and purchase the day it comes out.
This is how I see Gerik, Trinity and Xan

Meet the Author
I'm an editor for a non-profit.
A Mom.
A Writer.
A Social Distortion enthusiast.
And completely in love with books