The Bronze Horseman, Paullina Simons (The Greatest Love Story)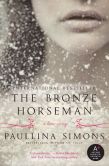 Overview
The golden skies, the translucent twilight, the white nights, all hold the promise of youth, of love, of eternal renewal. The war has not yet touched this city of fallen grandeur, or the lives of two sisters, Tatiana and Dasha Metanova, who share a single room in a cramped apartment with their brother and parents. Their world is turned upside down when Hitler's armies attack Russia and begin their unstoppable blitz to Leningrad.
Yet there is light in the darkness. Tatiana meets Alexander, a brave young officer in the Red Army. Strong and self-confident, yet guarding a mysterious and troubled past, he is drawn to Tatiana—and she to him. Starvation, desperation, and fear soon grip their city during the terrible winter of the merciless German siege. Tatiana and Alexander's impossible love threatens to tear the Metanova family apart and expose the dangerous secret Alexander so carefully protects—a secret as devastating as the war itself—as the lovers are swept up in the brutal tides that will change the world and their lives forever
——————————————————-
I kept getting suggestions from people on the internet to read The Bronze Horseman.  What is this I wondered over and over again.  I put it off, but then someone would suggest it again.  Finally it went on sale and I jumped at the chance to read it.  I was surprised to discover that the story takes place at the beginning of WWII in Leningrad Russia.  Tattiana is sent out by her father to buy as much food as she can because news of Germany going to war with Russia was just announced over the radio.  Finding store after store being jam packed with people fighting over sausage, she thinks I'll catch a bus and go to a different part of town.  She sits and indulges in one last ice cream cone.  Alexander a soldier in the Red Army is at an intersection deciding which way to go.  One choice, one simple choice, he sees her.  Maybe that one choice changed their fate, or perhaps was their fate.  One choice, to cross the street forever changes these two lives.  This story is heart wrenching.  Millions of people die.  Starvation, war, disease, deceit, all are obstacles love must endure.  So much happens in this story, I laughed and cried, then when I thought my tears were dry I cried some more.  It's emotional and painful but exquisite.  My sister asked me why do I want to read things that can make me cry, my answer should have been because sometimes you get to imagine a love story so beautiful that you are privileged to have a glimpse of some powerful words from another's soul.  I will carry this story, it will always be with me, following me the way the Bronze Horseman follows Alexander and Tattiana.  One choice, to read this story, will be forever attached to my heart.  Once you read this then you know, this is the greatest love story ever told.
Meet the Author
Paullina Simons is the author of nine internationally acclaimed novels, including Tully and The Bronze Horseman. Her books have been translated into twenty languages. Born and raised in St. Petersburg, Russia, she graduated from the University of Kansas in Lawrence, Kansas, and has lived in Rome, London, and Dallas. She now lives near New York City with her husband, four children, and one dog named Bunny.