Ten Tiny Breaths, By K. A. Tucker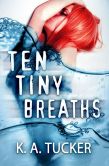 Overview
Kacey Cleary's whole life imploded four years ago in a drunk-driving accident. Now she's working hard to bury the pieces left behind—all but one. Her little sister, Livie.
When Uncle Raymond slides into bed next to Livie one night, Kacey decides it's time to run. Armed with two bus tickets and dreams of living near the coast, Kacey and Livie start their new lives in a Miami apartment complex.
——————————————————————————————
Hmm… I finished this last night.   I liked this story, I just wasn't head over heals in love with this story.  This for me would be a 3.75.  Perhaps it was my mood or where I was at when I was reading this.  About a quarter in to this story, I thought, oh no I hope its not going where I think it's going.  And It went there.
This story is well written, the characters are thought out and developed nicely.  It progresses at a nice pace. There are lines that I really enjoyed.  This is a story that can easily be read by a teenager.  It is not to graphic.
I guess, I just thought this book was going to take me somewhere emotionally and I didn't get that.  Not to say that you won't get that, but for some reason I just didn't get that feeling like OMG this is  something I have to shout out to the world about.  There are so many reviews on blogs about this book right now that really love this book so perhaps it was just my mood, but for some reason it didn't do it for me.