Teasing Trent, by M. Malone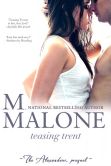 Overview
The only thing Trent's best friend has ever asked of him is to keep an eye on his twin sister while he's deployed. Keeping her company on her birthday should be business as usual. He just has to remember the promise he made to himself in college to keep his hands off her.
Which is getting harder and harder by the day.
Ever since Mara walked into her brother's dorm room freshman year and came face to face with a shirtless Trent, she's known he was The One. He's been right there with her twin brother as her biggest supporter or shoulder to cry on, whichever she needs most. The problem?
Trent has no idea how she feels.
________________________________________
So if you need to fill about 45 minutes of time with an exciting steamy appetizer then this is it.  This was a super quick read and it is the Prequel to One More Day.
I will tell yo,u this sexy, hot read pulled me in quick.  It is so hot.  If you just want to read something light to fill an hour of time then this is it.  This was a steal at .99 cents on B&N.
Warning there is mention of nipple clamps and Dildo's in this book so its not for the prude.
—————–
Meet the Author
Check out The Naughty Girls Next Door Blog to find out how to get Stolen, the first book in The Madame X School of Sex series by Jinx Jamison for FREE!
http://www.thenaughtygirlsnextdoor.comWho is Minx Malone?
Multi-published author Minx Malone lives in the Washington, DC metro area with her three favorite guys, her husband and their two sons. She's been writing since college when she finally figured out that daydreaming could be good for more than escaping boring business classes. Most of her novel ideas come to her at the strangest times, such as when waiting in line at the bank or while on the metro. She also gives some of the credit to her incredibly vivid dreams. She's the only person she knows who dreams in HDTV with surround sound!
Look For …