Soaring by Kristen Ashley Audio review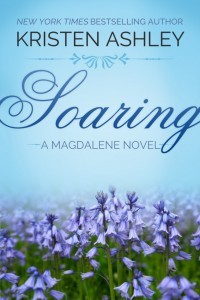 Her husband cheated on her, and when everything she wanted in life slipped through her fingers, she fell apart. When she did, she took another heart wrenching hit as she lost the respect of her children.
When her ex took her family from California to live in the small town of Magdalene in Maine, Amelia decided it was time to sort herself out. In order to do that and win her children back, she moves to Cliff Blue, an architectural masterpiece on the rocky coast of Magdalene.
Her boxes aren't even unpacked when she meets Mickey Donovan, a man who lives across the street, a man so beautiful Amelia takes one look at Mickey and knows she wants everything from him.
The problem is, she finds out swiftly that he's friendly, he's kind, but he doesn't want everything back.
Amelia struggles to right past wrongs in her life at the same time find out who she wants to be. She also struggles with her attraction to the handsome firefighter who lives across the street.
But Amelia will face a surprise when her friendly neighbor becomes not-so-friendly. As Amelia and Mickey go head to head, Amelia must focus on winning back the hearts of her children.
She soon discovers she also must focus on winning the heart of a handsome firefighter who understands down to his soul the beautiful heiress who lives across the street is used to a life he cannot provide
My review: 3 stars
I listened to my first audiobook so this review is of that. What a way to start as well, as it is almost 24 hours long.
First the narration: I felt like I was listening to Mary Alice's voice on Wysteria Lane. This was an interesting, but a good thing. She did the man's voice well, but sometimes I felt like she didn't change the octave in her voice quick enough. This did not take away from the story, but it was noticeable.
For me, audible was enjoyable but also it felt like I was observing rather than putting myself in Amelia's shoes. Not a bad thing, just, different.
I needed to get some serious spring cleaning done and this was the perfect long beautiful book to do so because listening to audio let me be a SUPER MOM!!
In typical Kristen Ashley form, she draws you in. There is something about her storytelling ability that is addictive and mesmerizing.
That said, this is a three for me. I felt like I missed something and that it was very anticlimactic. I have read at least a dozen other KA books and they have felt longer and longer, and sometimes that huge thing happens in the last hour, however, it never happened. Unless I hit fast forward somehow? I thought more was going to happen with Boston Stone and with the fire investigations. I was waiting for the other shoe to drop and it didn't.
This was a beautiful love story. It truly was, but I didn't feel like we got that much of a story. I got to see two amazingly beautiful families blend and fall in love with each other.
So if you need to get lost in the typical Kristen Ashley way, you will. If you are looking for big explosive things then there are a ton of other books by Kristen Ashley that will deliver that. This will give you older characters that are very relatable, with a second chance at happiness.
Kristen Ashley was born in Gary, Indiana, USA and nearly killed her mother and herself making it into the world, seeing as she had the umbilical cord wrapped around her neck (already attempting to accessorise and she hadn't taken her first breath!). Her mother said they took Kristen away, put her Mom back in her room, her mother looked out the window, and Gary was on fire (Dr. King had been assassinated four days before). Kristen's Mom remembered thinking it was the end of the world. Quite the dramatic beginning.
Nothing's changed.
Kristen grew up in Brownsburg, Indiana and has lived in Denver, Colorado and the West Country of England. Thus, she's blessed to have friends and family around the globe. Her family was (is) loopy (to say the least) but loopy is good when you want to write. They all lived together on a very small farm in a small farm town in the heartland. She grew up with Glenn Miller, The Everly Brothers, REO Speedwagon and Whitesnake (and the wardrobes that matched).