Review: WRECK ME (Wrecked #1) by JL Mac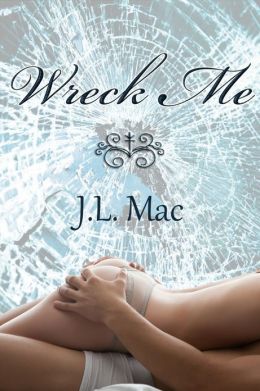 Overview
Life can be cruel. People can be ruthless and evil. The world can be cold and uninviting. No one knows these things better than Josephine Geroux. By her own definition, she is a twenty-five year old "nobody with nothing," and she is content to stay that way. Growing up an orphan has made her tough and indifferent to the people around her until she meets a strangely familiar man with a face that haunts her for reasons she can't understand.
Despite the pain that will inevitably ensue, she makes it her mission to discover what parts of her tragic puzzle she is missing. On her journey to discovering why the she feels an alarming connection to an absolute stranger, her greatest fear is reawakening the demons and darkness from the past that will surely overtake her if she lets her guard down.
Little does Josephine know that the past should be the least of her worries. She is toying with a man who has already broken her heart once. She just doesn't realize it.
Although she makes it a point to avoid interactions with others, Josephine's life becomes entangled with the enigmatic stranger. Before she realizes it, she has given herself over to the one person who is close enough to wreck her.
Buy Links: Amazon / Barnes & Noble
Abby's Review 3.75 stars
I enjoyed this book.  At about 50% I was instant messaging Dawn telling her that this is one that I know she will enjoy.  There are super steamy sex scenes.  Steamy probably isn't even a strong enough adjective.  They are well written, super sexually charged, hottttt scenes.
Jo and Damon are two very damaged characters.  From the first page you see how damaged Jo is.  Her story is a sad one.  Sadder than most characters, yet the way her character is developed you start to feel more like she is a bad ass.
I did think right from the start that I knew where this story was going.  This did end in a cliffhanger way that was surprising and intense even though it was pretty clear the direction the story would take.
Lastly when reading this several things came to mind for me, it has a huge Fifty flare to it, I wish the author would have left out the hot interior designer because that was to similar to Fifty for me.  I also started to see both Pretty Woman and the messed-up-ness that was Ten Tiny Breaths.  This is not necessarily a bad thing that it reminded me of these other things because in the end I really did walk away wanting to read the next book and hoping for Jo that she will get her happily ever after.
Dawn's Review 4.5 Stars
Totally, completed wrecked. That's me…right now…as I finish Wreck Me. Thank all that is good in this world that I could jump right into book 2!! Oh my god, this book will take you along a roller coaster ride from lows of Jo losing her parents, finding her place with Sutton, the HAWT sex, love, pain, and choices that made me want to say NO NO NO NO NO!!!!
Things I loved about Wreck Me – Damon. Holy freakin' hotness! That man is super intense, alpha male and pushes Jo to her limits sexually. I was very concerned at a few points when I thought, oh no, this guy is controlling and is going to wreck Jo with taking over her life. J.L. Mac did a fantastic job of turning that around and making me fall for him.
Jo. I LOVED her voice in Wreck Me. It was snarky, full of attitude, with this undercurrent of vulnerability. It felt so real and I was immediately involved in her world. I felt her pain and her fears, her love and her care for those things that are important to her.
They are both damaged in some way. There are secrets and mystery. I had a sense going in how the book was going to play out but that did not impact how involved I was in watching it unfold. This was definitely a book I did not want to put down until I finished!
Meet the Author
J.L. Mac is twenty-six years old and currently resides in El Paso, Texas, where she enjoys living near her parents and siblings. She was born and raised in Galveston, Texas, until she married her husband in July of 2005. She has two young children and is married to a soldier in the United States Army. J.L. and her family have lived all over the United States and have enjoyed each new experience in each new place. J.L. admittedly has had a long and sordid love affair with the written word and has loved every minute of it. She drinks too many glasses of wine on occasion,and says way too many swear words to be considered "lady-like." J.L. spends her free time reading, writing, and playing with her children.
Website  http://jlmacbooks.blogspot.com/
twitter username https://twitter.com/JaimiLMcCormick
Facebook page  https://www.facebook.com/jlmacbooks
Goodreads Page  http://www.goodreads.com/author/show/6654493.J_L_Mac