Review: FIND YOU IN THE DARK by A. Meredith Walters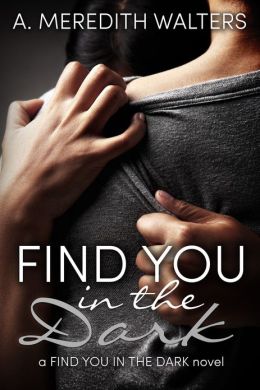 Synopsis
Maggie Young had the market on normal. Normal friends, normal parents, normal grades…normal life.
Until him.
Clayton Reed was running from his past and an army of personal demons that threatened to take him down. He never thought he had a chance at happiness.
Until her.
Maggie thought their love could overcome anything. Clay thought she was all he needed to fix his messy life.
That together, they could face the world.
But the darkness is always waiting.
Sometimes the greatest obstacle to true love is within yourself.
Review
Abby: This is a story of an all consuming first love.  Maggie loves Clay.  Clay is sick.  Maggie is ready to abandon everything for Clay.  She would go where ever he lead her.
"But I knew this love was an intense, hungry thing.  I worried for a moment, as I fell asleep, that his love would eat me alive."
"Sometimes, love can't make everything better, and the best thing for everyone is to walk away.  No matter how much it may hurt." 
So sometimes you read something and it touches home in so many places.  You may not be sure if you want to go on because the images the book is sparking for you is all too familiar.  For me this book is that.  My very first high school love was similar in so many ways to Maggie's.  Reading this captured so many of those moments. Moments where myself as a young naive girl found myself accepting my jealous love's 'I'm sorry' one to many times.  Walters captures these moments with the honesty and vulnerability that they deserve.
Sometimes in this book universe we joke that reading is our therapy. I think in a lot of ways that this book is very much one of those books.
For me I decided that I would love me more than I loved my crazy first love. In the book Clay gets his much needed help but not after so much damage has been done.
I love that this book also sheds a huge light on Bipolar disorder and mental health.  I have always believed that there is an awful stigma to mental health as a disease and if this book helps someone who loves someone with mental health problems or someone who has issues than kudos to you A. Meredith Walters.
This is one of those reads that I will think about for a long time.
Dawn:
"He didn't need me pretending that we would gallop off into the sunset like some fairy-tale. Because that wasn't our story. Not by a long shot."
Oh. My. God! Ever find a book that smacks you out of your everyday experience and takes you on an emotional journey where you are filled with love and pain and wishful thinking that there could be an easy happily ever after? Yes? Well, THIS is one of those books for me.
From the beginning, A. Meredith Walters trapped me in Clay & Maggie's story and I was lost in it. I was left gasping many times over.
Clay and Maggie run into each other at school, begin to build a friendship, and fall in love. Yet, there is something about Clay that he holds back about himself but it becomes increasingly difficult to hide from Maggie when his moods shift radically from extreme highs to extreme lows.
"But I knew his love was an intense, hungry thing. I worried for a moment, as I fell asleep, that his love would eat me alive."
Yet Maggie is inexplicably drawn to him and finds herself consumed by Clay. She finds a side of herself through Clay that she hadn't otherwise allowed to be free. And this new aspect of her personality and the choices that went with it were deeply intertwined with Clay and her relationship with him. If she wasn't with Clay, who would she be?
 "…I didn't want to be the girl I was before Clay. She was boring. Disinterested in life. That girl had never known what it was like to love someone more than herself."
Many times, I felt like Maggie – I had no idea going into this truly what demons Clay wrestled with. I loved him and all his light and dark but I also knew that he was going to hurt me. And did I hurt? Yes. I hurt for both of them. For Maggie and for Clay.
It was beautiful and sorrowful and tragic how the end came together. Not totally unexpected, just not your happily ever after.
As Abby said above, this one will stick with me for quite a long time.
About the Author (From Goodreads)
The New York Times bestselling author of Contemporary and Paranormal romance including Find You in the Dark, Cloud Walking and Bad Rep.
A. Meredith spent ten years as a counselor for at risk teens and children. First working at a Domestic Violence/Sexual Assault program and then later a program for children with severe emotional and mental health issues. Her former clients and their stories continue to influence every aspect of her writing.
A. Meredith recently moved to England and is trying to get used to driving on the other side of the road, eating fish and chips and all things British 🙂