Release Day Blitz, Review & Giveaway ~~ When I Was Yours by Samantha Towle

Happy Release Day to Samantha Towle and her new book WHEN I WAS YOURS!
♥ BUY THE BOOK ♥
Amazon US | Amazon UK | B&N | iTunes US | iTunes UK | Kobo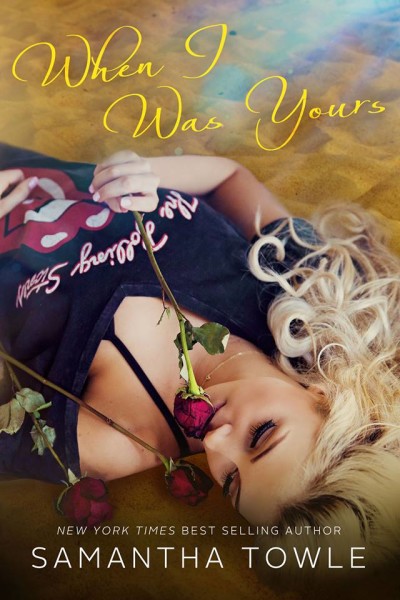 "Marry me."
"What?" I stared back at him, unblinking.
He moved closer, taking my face in his hands. "I love you, Evie. I look into the future, and the only thing I see clearly is you. Marry me."
What's an eighteen-year-old girl who was madly in love with her nineteen-year-old boyfriend say?
Of course, I said yes.
Twenty-four hours later, I married Adam Gunner at a Vegas chapel to the sounds of "Livin' on a Prayer" by Bon Jovi. Not the best omen. I get that now.
Then, exactly one week later, I left him. I walked out, leaving behind my wedding ring, annulment papers, and my heart, and he never knew why.
I haven't seen him since. Not in ten long years.
Now, he's here, standing before me. Looking at me with nothing but hurt and hatred in his eyes, he wants answers.
Answers I can't give.
Release Date: November 10, 2015
Cover Designed By: Najla Qamber Designs

Dawn's 5 Star Review
Samantha Towle is one of my go to authors. This gifted lady knows how to write emotionally angsty stories, that leave you panting for more. When I was Yours is Adam and Evie's story. This book is drenched in an overwhelming, indescribable love and tormented by agonizing heartbreak. It is constructed in a very intelligent manner, alternating from past and present in both their POVs. Allowing us to experience and feel both of their emotions. Samantha is always consistent with her characters. All her leading men are deliciously sexy with hearts of gold. I'm sure you have heard or even met a couple of them, Jake Wethers and Carrick Ryan. (If you haven't I suggest you get on that!!) But now Samantha has given us Adam Gunner and this boy is special. There aren't enough adjectives to describe him. If Jake and Carrick made you swoon, just wait till you meet Adam. His story is not your typical rich boy, meets poor girl… He will leave you absolutely speechless. Samantha's leading ladies are always strong women, who are warm and giving. I adored Evie. She has an angelic nature and is completely selfless. Putting everyone before herself…
"I'm in love with you too, Adam. And I'm not going anywhere." then she kisses me and nothing has ever felt so good in my whole life, as hearing Evie tell me she loves me…..
Chapter one, grabbed me from the first sentence and by chapter two, I had already fallen in love… My emotions ran rampant, as I volleyed from the bliss of the past to the torment of the present….
We first meet 18 year old Adam living the life in his Malibu beach house. He's cocky and a womanizer. He comes from Hollywood royalty and seems to have it all. But sadly, he actually has nothing. Only money and a name. He is just an asset to his family.
Until he meets Evie. She brings this player to his knees. She is like no one he has ever met before. But Evie has her own share of problems… He's drawn to her innate goodness and innocents. Their fiery attraction is mutual. She's enamored by his romantic charm and huge heart. As they fell hard and fast, I fell right along with them. But unfortunately there story takes a terrible turn, leaving them and myself devastated…..
Fast forward 10 years, neither one can move on. Both living in a constant stagnant state of longing and ache…. Can they get back what they have lost? Or is it too late? Get the tissues ready!
"You're killing me, Evie." His voice is agonized. "You're like a bullet lodged in my chest, I can't get you out. And you're killing me slowly…."

Take my hand, we'll make it I swear Woah, livin' on a prayer – Bon Jovi
Louisa's 4 Star Review
Samantha Towle has created a character who you may expect to be a hard hitting alpha male but what we got was an amazing man who is so broken and hurt that he's turned all his feeling off and is just breezing by life.
My heart broke while reading this story, over and over again. I loved the dual POV, going from past to present. Her writing is so electric and captivating that reading this book in one sitting was an absolute necessity for me.
The angst level was off the charts and Adam and Evie sneak into your heart and soul and you will cheer them on and hope for the HEA.
This is an absolute must read for me!
BTW – Adam's mom could be the most hated character I have ever read!
ARC's were provided to Blushing Babes Are Up All Night in exchange for an honest review.


Adam POV
Making my way through the hotel, I exchange pleasantries with the staff on duty. When I reach the coffee shop, I push open the door and step straight into the past.
Evie.
She's standing behind the counter. Her face is turned slightly to the right, her attention on the TV mounted on the wall, and her hair is pulled back into a ponytail.
But it's her.
I feel like a speeding train has hit me, and I'm pretty sure my heart has stopped beating.
It's really her.
She's here.
"Evie?" I breathe out her name, like I'm taking my first real breath in a very long time.
Her body stiffens at the sound of my voice. And I watch as her face turns my way. Those big whiskey-colored eyes that I fell in love with all those years ago meet mine, and my world stands still.
Evie POV
My eyes rake over him as I remember the Adam I knew ten years ago and compare him to the Adam I see before me. The long hair is gone, replaced with cropped locks. The unshaven scruff on his face is still very much there though. At least some things haven't changed.
"You cut your hair."
"It has been ten years."
"I know. I just…I remember a time when you said you'd never cut your hair." A small smile touches my lips at the memory.
"Yeah, and I remember when you promised to love me till death do us part. Shit changes."
My smile drops from my face. My cheeks sting like he's just slapped me.
I deserved that. Doesn't stop it from hurting like a bitch though.
New York Times, USA Today, Wall Street Journal and international bestselling author Samantha Towle began her first novel in 2008 while on maternity leave. She completed the manuscript five months later and hasn't stopped writing since.
She has written contemporary romances, THE MIGHTY STORM, WETHERING THE STORM, TAMING THE STORM, TROUBLE, REVVED and REVIVED.
She has also written paranormal romances, THE BRINGER and the ALEXANDRA JONES SERIES, all penned to tunes of The Killers, Kings of Leon, Adele, The Doors, Oasis, Fleetwood Mac, and more of her favourite musicians.
A native of Hull and a graduate of Salford University, she lives with her husband, Craig, in East Yorkshire with their son and daughter.
Facebook | Twitter | Website | Goodreads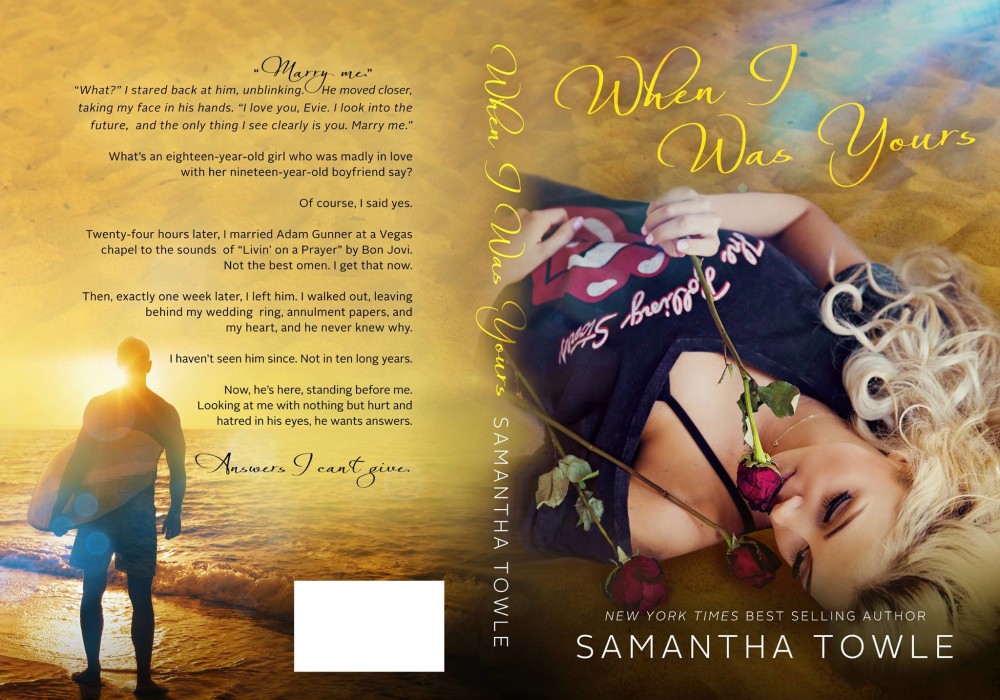 Samantha Towle's WHEN I WAS YOURS Release Day and Blog Tour Giveaway