Release Blitz ~~ KINGDOM FALL by A. Zavarelli
KINGDOM FALL by A. Zavarelli
Release Date: November 9th
Genres/Tropes: Dark Mafia Romance
Kingdom Fall is part of the Underworld Kings Universe. A multi-author series of standalone books filled with mafia families waging war, danger and violence, arranged and forced marriages, angst, love, and everything in-between.
Light or dark, twisted or sweet, the Underworld Kings has something for every reader.
STEPHANIE'S 5 BLUSH REVIEW
This book!!!! Kingdom Fall is everything! It is raw, passionate, and intense! I loved everything about it! Ashleigh Zavarelli really outdid herself!
Alessio Scarrcello, a "Sovereign Son" and part of the secret "Society." A powerful and secretive organization with their own hierarchy, rules, and expectations. There are two sides of him – the dark side and the softer side. He keeps his emotions close to his heart. He has many reasons for a closed heart. He is a bit of a loner and likes control. Alessio's search for a nanny leads him to Natalia Caberra. She is awkward, yet alluring and mysterious.
"Love wasn't really love. It was just a precursor to pain."
There is an emotional battle going on between Alessio and Natalia. The sexual tension between them is off the charts. You can feel his need for her jumping off of the pages. He is unraveling. Caught between want and need. Going against all of his self-set limits and expectations. They have great chemistry and his thoughts can be hilarious at times. She is filled with strength, love, and patience. I loved both of them so hard!
"He's not my savior. He's my enemy."
The writing is amazing! I could have easily read it in one sitting. There are twists, turns and "Oh No!" moments. It is dark. It is romantic. It is mafia. It will pull you in and pull you under. Each new book written by Ashleigh Zavarelli surpasses the previous one. Her writing just gets better and better.
AVAILABLE NOW!! FREE IN KU!!
Amazon US: https://amzn.to/3H4Ubew
Amazon UK: https://amzn.to/31FTWq1
Amazon CA: https://amzn.to/3wqdPwy
Amazon AU: https://amzn.to/3mRQalj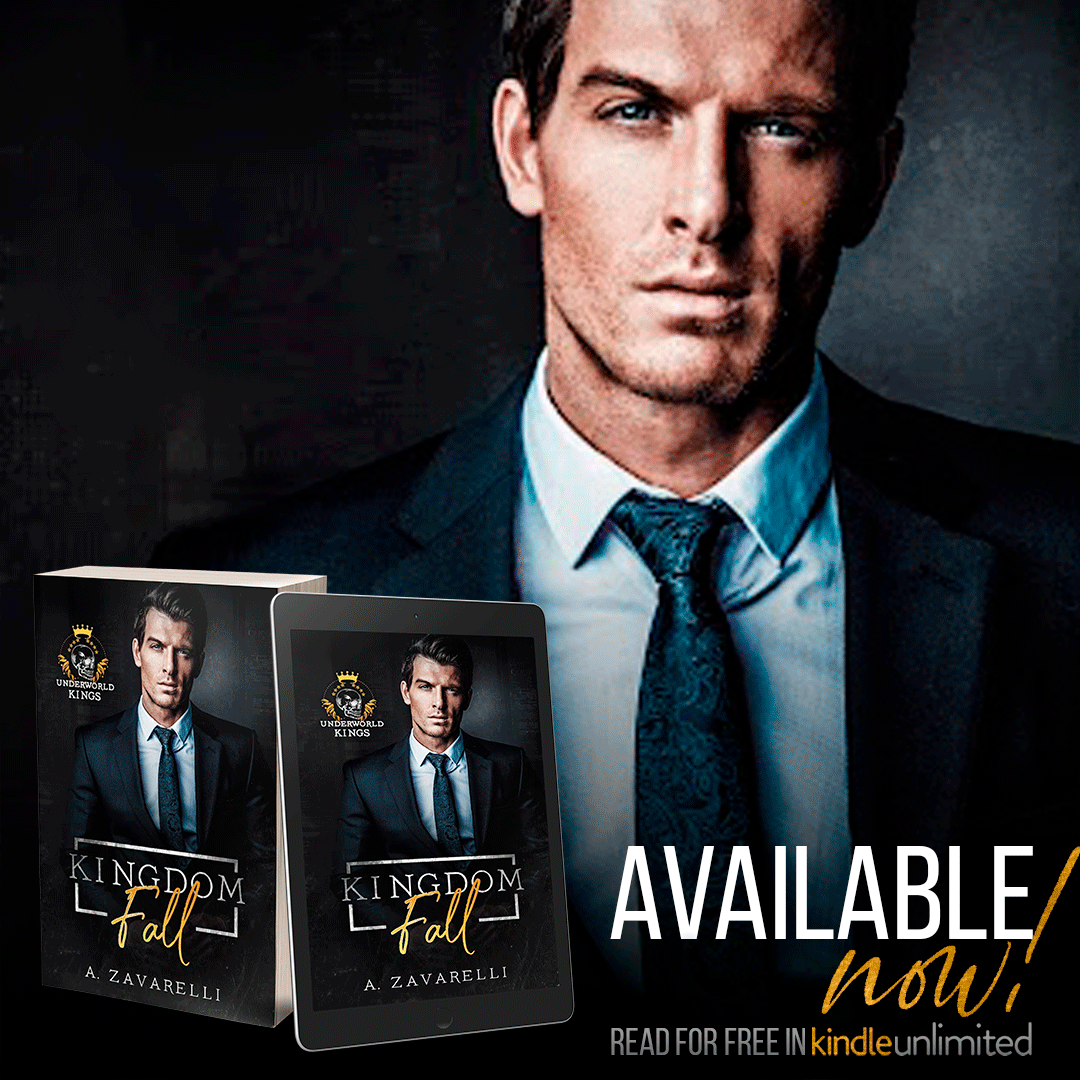 Add to Goodreads:
https://www.goodreads.com/book/show/58572211-kingdom-fall
Blurb:
I was a nanny in need of a job.
He was darkness personified.
I had little to call my own.
He was filthy rich, powerful, and dangerous.
The assignment was simple, and my goal was too.
Take care of his son. Keep my head down. When he least expects it, destroy him.
It should have been easy. I thought it would be until I looked into his stark blue eyes.
Kissing the enemy is a bad idea, but so is falling in love with him.
He doesn't know my crumbling foundation is built on lies.
When he discovers the truth, I'll find out if he's as brutal as I believe.
I came here to steal his life.
I didn't count on him stealing my heart.
About A. Zavarelli:
A. Zavarelli is a USA Today and Amazon bestselling author of dark and contemporary romance.
When she's not putting her characters through hell, she can usually be found watching bizarre and twisted documentaries in the name of research.
She currently lives in the Northwest with her lumberjack and an entire brood of fur babies.
Connect w/A. Zavarelli:
Facebook: https://www.facebook.com/azavarelliauthor/
Facebook Group: https://www.facebook.com/groups/943497375705372/
Instagram: https://www.instagram.com/azavarelli/
Twitter:https://twitter.com/AZavarellibooks
Mailing List: https://landing.mailerlite.com/webforms/landing/b7o9l3
Website: https://www.azavarelli.com
Goodreads:https://www.goodreads.com/author/show/13549895.A_Zavarelli
Amazon:https://www.amazon.com/A-Zavarelli/e/B00U2562W8
Bookbub: https://www.bookbub.com/profile/a-zavarelli
Check out more information on the books and authors coming this fall HERE—> https://under-world-kings.com
Keep up-to-date with all things Underworld Kings in the Reader Group HERE—> https://bit.ly/3ArB5vx