Reasonable Doubt one and two by Whitney G
My cock has an appetite.
A huge and very particular appetite: Blonde, curvy, and preferably not a fucking liar… (Although, that's a story for another day.)
As a high profile lawyer, I don't have time to waste on relationships, so I fulfill my needs by anonymously chatting and sleeping with women I meet online.
My rules are simple: One dinner. One night. No repeats.
This is only casual sex. Nothing more. Nothing less.
At least it was , until "Alyssa"…
She was supposed to be a 27 year old lawyer, a book hoarder, and completely unattractive. She was supposed to be someone I shared law advice with late at night, someone I could trust with details of my weekly escapades.
But then she came into my firm for an interview—a college-interninterview, and everything fucking changed..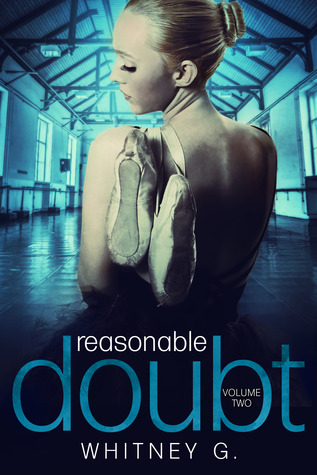 She lied to me…
She betrayed the one rule that I'm most adamant about: Honesty. Complete and utter fucking honesty.
I really wish she was someone else—someone who didn't have the ability to make me feel, someone I could easily discard like the hundreds of women before her.
She isn't.
I'm drawn to her like I've never been drawn to a woman before—completely captivated by the very sight of her. But unfortunately, with my past slowly re-surfacing for all of the world to see, I'll have to find a way to let her go.
She can never be mine.
Dawn C.'s Review 5 STARS
When a description of a book starts off with the guy speaking about the appetite of his ???? You know it's going to be good!!! Not only is this book smoking hot, it's hysterical. Perfect recipe for making a great book. Then add in an asshole guy…and bam….Fantastic book!
What is it about a cocky overly confident man that makes us girls swoon??? Andrew is that guy. He's the king of sarcasm. His attitude and witt had me laughing out loud and shaking my head.  In addition to that, he's so damn sexy. He exudes sex appeal. Rich and manicured but don't let that fool you, Andrew has his issues. He is brooding, totally controlling and in complete denial about his life.  You want to hate him, but you can't!!
I Love the chemistry between him and Aubrey… It's seems they have met their match!! I love their back and forth banter. I need these two to get together. Talk about fireworks.
This is a fun read. I breezed through it. Once I started, I was completely engaged and could not put it down.  Besides being hot and steamy, you can see deeper plots forming. I was left with unanswered questions and anxiously waiting the next book. This is my first read from Whitney. I look forward to reading more from her. Bravo!
Evelyn's Review 4 stars
I am not a synopsis reader and so sometimes, I am completely surprised. This is one of those times, WTF did I just read?  This is unique, strangely comical and very alluring.
I was so engaged that I read these two in hours of each other.  Warning they are novella's and you are left wanting to know what is going to happen but we are waiting on the Reasonable Doubt 3.
I liked these. There is something fast paced, sexy and funny about them.  I struggled to feel connected in the second book with Aubrey and I wanted her to grow a back bone a little, however I am guessing that in the next book she will be redeemed?  Or at least hoping.
This is a series that I would however recommend, but if a cliffy bothers you, you may want to wait, fear not the next is not that far away.

Best way to get in contact with me is either on my Facebook page or at whitgbooks@gmail.com!
A self diagnosed candy addict, travel junkie, and hypochondriac, Whitney Gracia Williams LOVES to write about characters that make you laugh, cry, and want to (in the case of Selena Ross) reach through your Kindle and slap them.
She is the "imaginary bestselling" author of the Jilted Bride Series, Mid Life Love, Wasted Love, and Captain of My Soul.
When she's not locked inside her room, feverishly typing away on her laptop, she can be found here:
http://www.whitneygracia.com
She also loves getting emails from her readers, so if you want to tell her how much you loved (or hated) her stories, email her at whitgbooks@gmail.com!