Reaper's Stand Joanna Wylde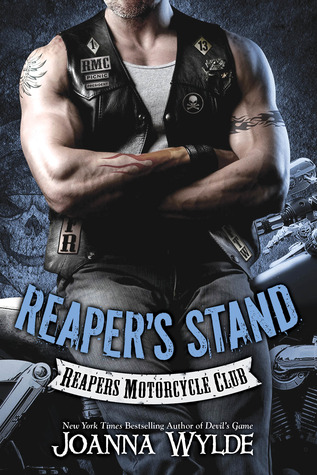 As Reapers Motorcycle Club president, Reese "Picnic" Hayes has given his entire life to the club. After losing his wife, he knew he'd never love another woman. And with two daughters to raise and a club to manage, that was just fine with him. These days, Reese keeps his relationships free and easy—he definitely doesn't want to waste his time on a glorified cleaning lady like London Armstrong.
Too bad he's completely obsessed with her.
Besides running her own business, London's got her junkie cousin's daughter to look after—a more reckless than average eighteen-year-old. Sure she's attracted to the Reapers' president, but she's not stupid. Reese Hayes is a criminal and a thug. But when her young cousin gets caught up with a ruthless drug cartel, Reese might be the only man who can help her. Now London has to make the hardest decision of her life—how far will she go to save her family?
Abby's Review 4 stars
Joanna Wylde does it again! She creates a story that pulls you in every time. I was immediately captivated by Reece aka picnic and London.
Reece and London are more mature characters and I loved this about them. Picnic, is a waste no energy on b*llsh*t kind of guy. London is a crazy cleaner that loves fiercely. I loved how easily she fell into the grove and I think it was because she was well into her thirties that this worked so well.
Picnic is hot!! (Yep that's all there is to say about that) You do not have to have read her other books to get this one but I would recommend it. We get to see some characters that we really fall in love with in her other stories.
Can I just say, Joanna Wylde has such a smooth voice when she writes. Everything flows so easily and I seriously read this all in one sitting.  Would highly recommend this series!
url
https://www.goodreads.com/JoannaWylde
website
twitter username
Joanna Wylde is a freelance writer and voracious reader. You can visit her website at www.joannawylde.net.