Reaper's Fire by Joanna Wylde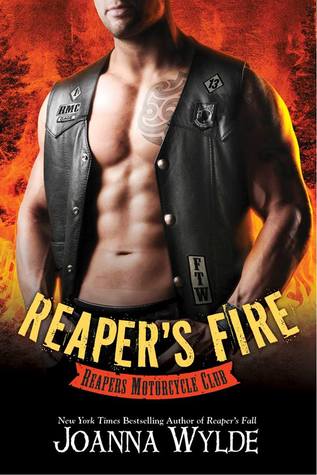 It's time for more men and motorcycles in the latest from theNew York Times bestselling author of Reaper's Fall…
The club comes first.
I've lived by those words my whole life—assumed I'd die by them, too, and I never had a problem with that. My Reaper brothers took my back and I took theirs and it was enough. Then I met her. Tinker Garrett. She's beautiful, she's loyal, and she works so damned hard it scares me sometimes . . . She deserves a good man—one better than me. I can't take her yet because the club still needs me. There's another woman, another job, another fight just ahead.
Now she'll learn I've been lying to her all along. None of it's real. Not my name, not my job, not even the clothes I wear. She thinks I'm nice. She pretends we're just friends, that I've still got a soul . . . Mine's been dead for years. Now I'm on fire for this woman, and a man can only burn for so long before he destroys everything around him.
I'm coming for you, Tinker.
Soon.
my review 4 stars
Joanna Wylde has transfixed me with her motorcycle series. It's all about family, trust, and loyalty.
In this story, Gage meets Tinker while he is undercover for his club. He's attracted to her, but he is literally sleeping with the enemy to get intel.
Gage and Tinker have awesome banter. Tinker is in her thirties and in no way is she going to take any crap from anyone. I loved this about her. She's like as much as I want him, I'm not putting up with bullshit. This was refreshing. I like that she didn't just roll over because he's hot. She needed time, and Gage was willing to put it in.
I did skim a tad through all of the motorcycle club talk. It was too much detail and not really what I like, but I think that's purely taste. There was nothing wrong with it, but for me, the part of mc's I like is the romance not the gritty club business. We do get quite a bit of that here.
Overall, I found this to be a very captivating, often sexy read. Joanna Wylde sure knows how to keep you thoroughly entertained all while weaving in a beautiful love story.
Joanna Wylde started her writing career in journalism, working in two daily newspapers as both a reporter and editor. Her career has included many different jobs, from managing a homeless shelter to running her own freelance writing business, where she took on projects ranging from fundraising to ghostwriting for academics. During 2012 she got her first Kindle reader as a gift and discovered the indie writing revolution taking place online. Not long afterward she started cutting back her client list to work on Reaper's Property, her breakout book. It was published in January 2013, marking the beginning of a new career writing fiction.
Joanna lives in the mountains of northern Idaho with her family.