Wallbanger, Alice Clayton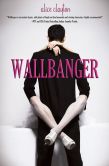 Overview
Wallbanger is an instant classic, with plenty of laugh out loud moments and riveting characters–highly recommended! –NYT and USA Today Bestselling Author Jennifer Probst
Hilarious, romantic, and compulsively readable, WALLBANGER delivers the perfect blend of sex, romance, and baked goods. –Ruthie Knox, best-selling author of About Last Night"
Caroline Reynolds has a fantastic new apartment in San Francisco, a KitchenAid mixer, and no O (and we're not talking Oprah here, folks). She has a flourishing design career, an office overlooking the bay, a killer zucchini bread recipe, and no O. She has Clive (the best cat ever), great friends, a great rack, and no O.
Adding insult to O-less, since her move, she has an oversexed neighbor with the loudest late-night wallbanging she's ever heard. Each moan, spank, and–was that a meow?–punctuates the fact that not only is she losing sleep, she still has, yep, you guessed it, no O.
Enter Simon Parker. (No, really, Simon, please enter.) When the wallbanging threatens to literally bounce her out of bed, Caroline, clad in sexual frustration and a pink baby-doll nightie, confronts her heard-but-never-seen neighbor. Their late-night hallway encounter has, well, mixed results. Ahem. With walls this thin, the tension's gonna be thick…
In her third novel, Alice Clayton returns to dish her trademark mix of silly and steamy. Banter, barbs, and strutting pussycats, plus the sexiest apple pie ever made, are dunked in a hot tub and set against the gorgeous San Francisco skyline in this hot and hilarious tale of exasperation at first sight.
 _________________________________________________
Giggle, Giggle, snort, giggle, snort….  Oh my I have become the giggler.  This is a super funny read.  If you are in need to read something that is light and funny but still very sexy this is the book for you.
There were a ton of lines that I highlighted,
here is an example of one,
They say when a soldier looses a leg in battle, sometimes, late at night, he can still feel the twinges of that leg-phantom pain, they call it.  I lost my O in battle, the battle of Cory Weinstein-that machine-gun fucker-and I was still feeling the aftershocks.
This was so damn funny!
Can I just say Clive the crazy cat added to some insanity.
Alice Clayton has a unique writing style, she often is showing you what each persons thoughts are and its very amusing.
I liked this I would give it a 3.75 if I could though because I never felt like the two main characters were described very thoroughly so I kept having a hard time picturing them in my head.  I also think this is the type of book that you can read, set it down and pick it up a week later.  This can be a good thing or a bad thing, it just didn't have me staying up all night.   -Abby