Pepper Winters does it again in Indebted 2 (First Debt)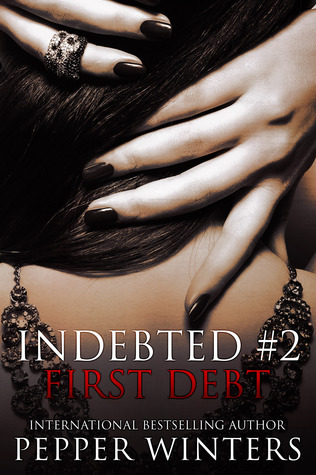 "You say I'll never own you. If I win—you willingly give me that right. You sign not only the debt agreement, but another—one that makes me your master until your last breath is taken. You do that, and I'll give you this."
Nila Weaver's family is indebted. Stolen, taken, and bound not by monsters but by an agreement written over six hundred years ago, she has no way out.
She belongs to Jethro as much as she denies it.
Jethro Hawk's patience is running out. His inheritance gift tests, challenges, and surprises him—and not in good ways. He hasn't leashed her but he thinks he might've found a way to bind her forever.
Debts are mounting. Payment waiting.
Nila, Jethro and The Hawks are back….
When we left off in the first book, Nila Weaver was running for her life from the devil himself… In First debt can she actually be running towards him?
First Debt is the second installment of The Indebted series. Pepper Winters continues to maintain her title as the Queen of dark and twisted. How does she have the ability to make you fall for a monster?? Maybe it's because only she has the ability to make a black heart beat! This book is all consuming, totally combustible and hugely addictive.  Each word has purpose. There is no filler. With each page turned, you are drawn in deeper….
There was such an intense metamorphosis within Jethro and Nila. Both transforming into unrecognizable beings! Jethro's stone cold exterior is crumbling. Is it possible for his heart to thaw out??? He is rabidly trying to fight his feelings and desires. Trying to maintain his frigit persona and be a well conditioned Hawk. What is it about Nila that makes him lose control??  Nila Weaver has proven to be a worthy opponent. She Isn't a suppressed little girl anymore. She has gained power through unlikely circumstances. The more the Hawks throw at her the better she thrives. Can she use her sexuality to tame the savage beast ….or is he taming her in the same way? The sexual tension between the two is like a white hot inferno. So hot it's palpable…. Unbridled passion throughout. This is an epic battle of wills. A power play by both. Transferring the power back and forth. Who will be the victor? Beauty or the beast? We learn Jethro and Nila are one in the same but very different. Thrown together against their free will. Destined since birth. Can their destiny be changed without their demise? There are still many unknown secrets to be discovered… so much danger and intrigue. I can't wait to see where this series goes. I just hope my heart can take it……
Back to Jethro… ahhh Jethro… I don't know how Pepper has done it but she made me exhaustively fall for Jethro. I am completely enamored by him!! Jethro is now battling Q for my heart….. I clearly have a thing for dark and brooding men!! Which is clearly Pepper Winters' specialty…. lucky me!
Pepper Winters is a NYT and USA Today International Bestseller. She wears many roles. Some of them include writer, reader, sometimes wife. She loves dark, taboo stories that twist with your head. The more tortured the hero, the better, and she constantly thinks up ways to break and fix her characters. Oh, and sex… her books have sex.
She loves to travel and has an amazing, fabulous hubby who puts up with her love affair with her book boyfriends. She's also honoured to wear the IndieReader Badge for being a Top 10 Indie Bestsellers, best BDSM series voted by the SmutClub, and recently signed a two book deal with Grand Central. Her books are currently being translated into numerous languages and will be in bookstores in the near future.
Her Dark Romance books include:
Tears of Tess (Monsters in the Dark #1)
Quintessentially Q (Monsters in the Dark #2)
Twisted Together (Monsters in the Dark #3)
Debt Inheritance (Indebted #1)
Her Grey Romance books include:
Destroyed
Upcoming releases are:
First Debt (Indebted Series #2)
Ruin & Rule (Pure Corruption MC)
Je Suis a Toi (Monsters in the Dark Novella)
Forbidden Flaws (Standalone Erotic Romance)
To be the first to know of upcoming releases, please join Pepper's Newsletter (she promises never to spam or annoy you.)
NEWSLETTER: http://eepurl.com/120b5
Or follow her on her website
She loves mail of any kind: pepperwinters@gmail.com
You can stalk her here:
Pinterest/Pepperwinters
Facebook Pepper Winters
Twitter @pepperwinters
Blog pepperwinters.wordpress.com