Obsidian, Jennifer L. Armentrout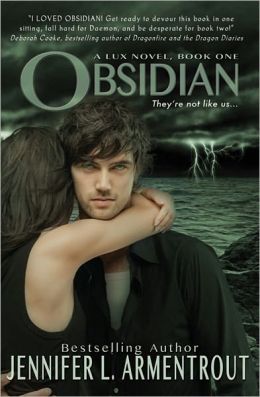 Overview
When seventeen-year-old Katy Swartz moved to West Virginia right before her senior year, she'd pretty much resigned herself to thick accents, dodgy internet access, and a whole lot of boring, but then she spotted her hot neighbor, with his looming height and eerie green eyes. Things were looking up…until he opened his mouth. Daemon Black is infuriating. Arrogant. Stab-worthy. It's hate at first sight, but when a stranger attacks her and Daemon literally freezes time with a wave of his hand, well, something…unexpected happens. The hot guy next door? Well, he's an alien. Turns out that Daemon and his sister have a galaxy of enemies wanting to steal their abilities and Katy is caught in the crosshairs. Daemon's touch has lit her up like the Vegas Strip and the only way she's getting out of this alive is by sticking close to him until her alien mojo fades. That is if she doesn't kill him first.
_______________________________________________
Hmmm…
That is kinds what I feel like after reading this.  Does anyone remember a WB t.v. show called Rosswell?  It aired Oct 1999- May 2002.  This book completely reminded me of that show but it didn't pull me in as much as the t.v show did.
Katy moves next door to an unusual brother and sister and she discovers that they are aliens.  Daemon is rude to Katy.  There is some type of alien attraction that goes on between the two.  Katy is courageous and trustworthy.  She builds a friendship with Dee Damon's sister and that is a sweet dynamic.
I don't know if it is because this reminded me so much of a t.v show that I didn't fall in love with it.  There were good elements and part of me wants to read the next one to see if it will make me like it more.
Meet the Author
Jennifer L. Armentrout lives in West Virginia. All the rumors you've heard about her state aren't true. Well, mostly. When she's not hard at work writing, she spends her time reading, working out, watching zombie movies, and pretending to write. She shares her home with her husband, his K-9 partner named Diesel, and her hyper Jack Russell Loki. Armentrout writes Adult and Young Adult Urban Fantasy and Romance. She can be found 'brainstorming' on Twitter or stalking Goodreads while fighting her never-ending addiction to caffeine
The next installment in this is,