Nocte by Courtney Cole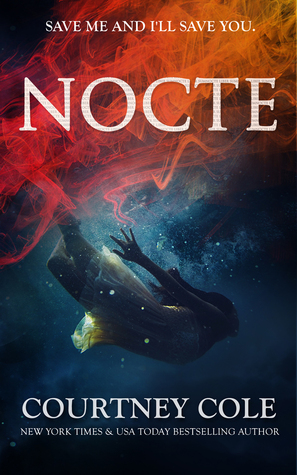 Save me and I'll save you…
My name is Calla Price. I'm eighteen years old, and I'm one half of a whole.
My other half– my twin brother, my Finn– is crazy.
I love him. More than life, more than anything. And even though I'm terrified he'll suck me down with him, no one can save him but me.
I'm doing all I can to stay afloat in a sea of insanity, but I'm drowning more and more each day. So I reach out for a lifeline.
Dare DuBray.
He's my savior and my anti-Christ. His arms are where I feel safe, where I'm afraid, where I belong, where I'm lost. He will heal me, break me, love me and hate me.
He has the power to destroy me.
Maybe that's ok. Because I can't seem to save Finn and love Dare without everyone getting hurt.
Why? Because of a secret.
A secret I'm so busy trying to figure out, that I never see it coming.
You won't either.
Dawn's 5 star review:
This was my initial reaction when I finished Nocte. I had PMed this to all my friends: "Oh my f*king God!!!! I just finished!!! I'm a blubbering psychopath right now!!!! Are you kidding me!???? It's brilliant!!! Stop what you are reading and get this book."
I always new Courtney Cole was talented. She has become one of my favorite authors. I have read a few of her books and loved them all.  She has a diverse style and can basically write anything. Nocte just confirms what a chameleon she truly is. This book has transported her into another stratosphere of greatness. Such superior writing. Nocte covers quite a few different genres and rolls them all into one. It's a psychological suspense thriller, that reads like a horror story with a new adult feel. It is such a hauntingly beautiful story. That is shrouded in sadness, but within the sadness love is blooming and there is hope. The book is filled with contradictions… light and dark.. good and evil… life and death. The setting is like something out of a Stephen King book. Picture a funeral home set on top of mountain and an abandoned amusement park with a rotting old fun house. Can it get any creepier??? Sure can! Just add mental illness into the recipe. All the ingredients make for one powerful and emotional read.
Each of the unique and complex characters have colossal secrets they are concealing from one another. With each chapter, your need to find out their secrets turns into an obsession. It is overwhelming. All consuming and addictive. When I finally found out the secret, I was flabbergasted!! It was like a sucker punch to the gut. F*cking mind-blowing. I know in that moment I made a bunch of unrecognizable noises. Good thing I was alone! This is the type of book that stays with for months to come. Replaying over and over in your mind. 
Best way to read this book is going in completely blind.  Bravo to Courtney for keeping it top secret!!! I can only hope the rest us can keep the secret safe!
About this author

Courtney Cole is a New York Times and USA Today bestselling novelist who would eat mythology for breakfast if she could.
She has a degree in Business, but has since discovered that corporate America is not nearly as fun to live in as fictional worlds.
Courtney was born and raised in rural Kansas, but has since migrated south. She now lives in Florida and writes beneath palm trees.
https://www.goodreads.com/CourtneyCole