Noah by Elizabeth Reyes (book one in the 5th Street series)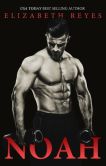 Overview 3 stars
TEMPORARY price cut from now until the release of Gio, the second in the 5th Street series! Get your copy now!Veronica Cruz has been through hell and back. After disconnecting with the world two years ago to be at the side of her dying mother, she's left alone, unemployed, overweight, and feeling a decade older than her twenty-eight years. When her best friend coaxes her into joining the local gym to ditch her depression and rejuvenate her life, she meets Noah. Assigned to help Veronica lose weight, Noah is everything she expected a young trainer to be—perfectly chiseled, supportive and motivating. Add to that, he's incredibly sexy. He's everything she's ever looked for in a man. What she least expected was for him to fall for her, but he has. There's just one glaring problem: Noah is eight years younger.Noah Quintanilla has his eye on a boxing title—someday. Down for a few months with an injury, his maintenance-boy pay at 5th Street Gym won't cut it. He's finally given the opportunity to train. The catch? His trainee is an out-of-shape woman with a free week pass. Taking on the challenge, Noah stumbles into one of the closest friendships he's ever known, and before he knows it, he's in love. But Veronica's not having it—the age difference is too much. Their platonic relationship means having to watch her date other men—something that would make him crazy. Believing he's the man for her, Noah sets out to prove that age is but an illusion, and there's more to him than just a number.
______________________________________________
Review
This is a story of a twenty eight year old woman who is struggling with the loss of her mom.  She has put on a ton of wait and her friend drags her to the gym.  She meets Noah at the gym, he is her trainer and a boxer. Noah needs a place to stay and Veronica has extra bedrooms.  They move in together and slowly fall in love.
When I say slowly I mean slowly, unfortunately for me this was a nice story but its pace was about as as slow as a snail.  I have to say although the characters were good I was getting to a point where I contemplated stopping just because I was starting to get a little bored.
It does have a nice finish and you do get the sense that their story is going to be a happily ever after.  But for me this was just okay.
Meet the Author
From the Author of The Moreno Brother series. For more on this author visit her website at www.ElizabethReyes.com