NEW REVIEW INDEBTED PEPPER WINTERS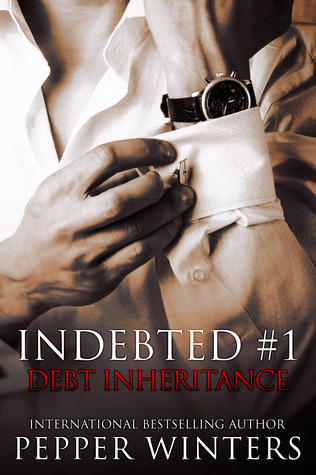 "I own you. I have the piece of paper to prove it. It's undeniable and unbreakable. You belong to me until you've paid off your debts." 
Nila Weaver's family is indebted. Being the first born daughter, her life is forfeit to the first born son of the Hawks to pay for sins of ancestors past. The dark ages might have come and gone, but debts never leave. She has no choice in the matter.
She is no longer free.
Jethro Hawk receives Nila as an inheritance present on his twenty-ninth birthday. Her life is his until she's paid off a debt that's centuries old. He can do what he likes with her—nothing is out of bounds—she has to obey.
There are no rules. Only payments
Dawn C's review: 5 stars
Pepper doesn't do warm and fuzzy, so if that's what you are looking for… move on! When I finished, I thought, what the hell did I just read and experience??? The queen of dark and twisted is at it again. This time she wrote a modern day thriller that has the feeling of being transported into an ancient time. A time where bloodlines and loyalty to family come above all else. Men are the hierarchy. The Hawk family are so powerful and wealthy. Beyond reproach. They simply take what then want, when they want! They live by their own laws, an eye for an eye. They are above modern day rule and regulations. Nila Weaver had lived a good life, aside from an overly protective father and brother, who killed her love life. She comes from a prestigious family and has a wonderful budding career as a fashion designer. Little did she know she was about to lose it all, including her freedom. No longer would she be a sheltered repressed little girl. When she meets Jethro, as scary and cold, as he may seem he awakes her sexual desires. She's in for the fight for her life…. It's astonishing how much resilience one can have when faced with extinction. Jethro Hawk is evil cloaked in beauty! A elegant man reeking of class and stature. But looks can be deceiving, he seems to be lacking a soul. Cold and calculated. His family has a centuries old debt they want paid. This isn't the Hatfields and McCoys!! That debt is Nila. Her life! Jethro plans on destroying her then ending her life. Jethro has no compassion or remorse. A heart like stone… But his plan may not be as easy as he planned. Nila is a fighter and she stirs things deep inside him….. Can she use sex as a weapon??? Can she thaw his heart? Pepper Winter's level of writing never ceases to amaze me. Her words are like poetry. She takes you to places you have never gone before. From the implausible and hideous to lustful and wanton. All in one paragraph. Such an intriguing and unique storyline with fantastic complex characters. This book is fast paced and thrilling. It will leave you wanting more. I'm excited this is just the beginning…..
Kristine's review 5 stars
All I got to say is Wow about this one!  Pepper just keeps getting better and better!
Nila was born into the Weaver family.  She had a very nice elaborate life minus having her mother around.  She never knew the reason, she just up and left.  Living the rest of her very sheltered and protected life with her father and her brother.  She grew up to be very successful in the fashion world.  She never saw what or who was coming for her.  Her family had a past of debts that go back to centuries ago. She was the one to pay….to pay for something she never did.
Jethro a scary man, a predator who is disguised by beauty, not knowing all the dark thoughts behind his eyes.  He was to collect that debt…
               

  "People who knew me said I was a gentleman.  They called me distinguished, accomplished, and shrewd.  I was all of those things, but none of them.  We might live in a civilized world, but rules and laws didn't apply to me.  I was a rule-breaker, curse-maker, life-stealer." ~Jethro
Omg, this story is brilliant, original and made up from Pepper Winter's beautifully twisted imagination, no need to say more.  From the first page this leads you into this out of this world territory.  I didn't know if I should hide or keep going.  Jethro is scary and is relentless on gaining control and Nila who is thick headed and a fighter, putting these two together causes extreme mayhem that makes you wanna turn your head, but you can't you need to read more…  How I love pepper for giving us another realm to be lost in, one I wanna experience over and over again.  Another dark and powerful man to fall in love with!  I cant wait for more Pepper!  You Bring it each and every time!
Evelyn's review 3.5 stars
See we all can vary on opinions and I reserve the right to change my opinion once I read the next book. Pepper Winters can write beautifully. She can make dark and dirty things sound poetic.  I love her style and she kept me completely intrigued.
Where my girls loved this, I was left scratching my head. Jethro comes off as a rapist asshole, and there were a few times where I was not thrilled with the plot. Was it really necessary for them to be a MC? They are 600 years old, that seemed forced. Also this had me wondering……
Okay maybe not a tootsie roll but there were one to many licks here and it was a yucky scene for me. Pepper does dark, I just wish our heroine wasn't turned on by the vile nature.
Now depending how this story evolves and I
WILL
be carrying on with it, I might change my mind. Pepper can start something one way and let it turn into what you don't expect and I suspect that she will weave a tale that will have me changing my mind but right now,
Pepper Winters wears many roles. Some of them include writer, reader, sometimes wife. She loves dark, taboo stories that twist with your head. The more tortured the hero, the better, and she constantly thinks up ways to break and fix her characters. Oh, and sex… her books have sex.
She loves to travel and has an amazing, fabulous hubby who puts up with her love affair with her book boyfriends.
Her Dark Erotica books include:
Tears of Tess (Monsters in the Dark #1)
Quintessentially Q (Monsters in the Dark #2)
Her Grey Romance books include:
Destroyed
Upcoming releases are:
Twisted Together (Monsters in the Dark #3)
Debt Inheritance (Indebted Series)
You can stalk her here:
Pinterest/Pepperwinters
Facebook Pepper Winters
Twitter @pepperwinters