New Review Bait by M. Mabie
He was trouble from the start, but I couldn't resist.
She was the best kind of trouble. The kind that was so wrong, it felt right.
I've tried and failed to stay away from him.
I've done everything in my power to make her mine and keep her.
He's almost impossible to say no to.
She never tells me yes.
We're always fighting.
When we're not fighting, we're… well… making up.
He makes me laugh so hard.
I miss her laugh the most.
I'm a liar.
She knows the truth, but won't admit it.
Sometimes, I wish I'd never met him.
I wish we could meet all over again. I'd do better.
His girlfriend knows.
The guy she's with is a fool.
I'll never love anyone like I love him.
She doesn't love me enough to choose us.
It was the wrong place.
It was the wrong time.
It should have been him.
It will always be her.
This book contains adult situations and is recommended for adult readers.
5 torturously brilliant stars….
What would you do if you had the seemingly perfect boyfriend, who had laid out the perfect yet mediocre life for you….. but then you had a chance encounter with a guy your body craves and who brings you to life?? Would you cheat? Would you be selfish?? Well, that's exactly what happen to Blake and that's exactly what she did…….
"He was trouble from the start, but I couldn't resist," – Blake
"She was the best kind of trouble. The kind that was so wrong it felt right." – Casey
In my opinion cheating in never right, but when you seem to forget that as you read Bait. The magnetic all consuming
pull that Casey and Blake have
will leave you fervent and aching. Lines are blurred and morals go out the window. It's beyond frustrating and angsty…. Naughty and risky…. But you can't help but love every torturous moment. Just thinking about it puts a lump in my throat and a heaviness in my heart!
I have read many books and loved many book boyfriends…….
Casey Moore has made it to the top of my list. He's just perfect. I could give you a list of adjectives to describe
him
but they wouldn't do him any justice. You need to experience him for yourself.
"She knows the true but won't admit it." – Casey
Some may call Blake a selfish bitch…. and well she is!! But I can also sympathize with her. Having two great guys… One your head wants and one your heart needs.  Can you honestly say, you know what you would do? It's life changing…. Could you give up a safe sure thing to pursue a maybe?? You will want to slap her, then hug her, then repeat!!
Now the juicy part…. The sex scenes were not your run of the mill, let me skim over this, sex scenes. They were tender, passionate, intimate and some were painstaking slow!! I hung
of
every word. Imagining every touch…. Maybe it's the authors sensual description or maybe it's better because it is Casey and Blake! Theirs isn't just a physical connection. It's much deeper that…. although they try to deny it, it is a love of a lifetime.
This book inspired me to make teasers, search out songs, haunting M. Mabie… She probably thinks, I'm nuts by now! I promise I'm not! Just obsessed with this book. I love when a book affects me this way. That is the sign of a brilliant writer. One who knows how to get into the subconscious of their reader.
Now, I am left here with a huge book hangover… missing my Casey and wanting to scream at my kindle again!! I will be counting the days till Sail is out. Telling anyone who will listen to READ THIS BOOK!!!
Kristine's review 5 stars
There is so much I wanna say about this story!  First off I wanna thank one of my best book buddies for telling me to read this!  As a blogger sometimes amazingly epic tiltles like this slips through with so many new stories coming out. M.mabie is a new author for me and  I'm happy that I found her. It's like finding a new flavor ice cream that was there but never devoured and you ask "Where have you've been all my life"?  From now on I'm running to all her releases. M.mabie made my must read author list, she is off the charts amazing!!!
Bait awakened a lot of emotions for me!  Even when I wasn't reading, this story affected me in alot of my daily activities….hmmmmm this was all new to me.  Heightening a lot of my emotions. These characters would not leave my thoughts and now a day after reading they are still there…finding myself daydreaming of them quite often.
Blake reminds me a lot of myself and a lot of her thoughts and decisions (well most not all) is prob what I would do.  She has high respect for herself but has a lot of doubts which is very relatable.  She has a fun,  creative, and sweet persona, def best friend material.  So much that I wanted to slap some sense into her at times.
" This doesn't have to be some romantic thing. It's anatomical. Your body wants my body and mine wants yours."~ Blake
Now…. *sigh* Casey…  From head to toe he is my bbf type.  Its like M.Mabie created him just for me!  Who doesn't love a sweet, funny, down to earth, sex on a stick with great hair  type of guy.  Not just that, that's all the bonuses, it's the way he is so genuine, and the things he says and does just makes you melt into a giant ocean just for him to walk across.
I don't like giving a lot of things away In my reviews, I like the reader to experience it the way I did. And you'll be thanking me and then putting yourself in the very handy support group!  There is no going back after experiencing this one!  Ill just say this story was very different for me.  I loved all the originality that shined through this.  Originality that just had me squealing like a nutjob!  I never saw what was to come next.  With all the  emotions, I actually wanted to cover my eyes.  I had to stop a few times to take a breather. What a ride!!!  So grab a friend to take on this emotional  rollercoaster ride….you'll need someone to yell at! We will be waiting for you to join us Bait forever lovers!  We can all be Betties cause lou likes trouble! (You'll get that one when you read!)
"But I was positive that I wanted her the same fu***** way people wanted summer in February and how dogs want their bellies rubbed. Naturally. Lighting her up came naturally to me.~ Casey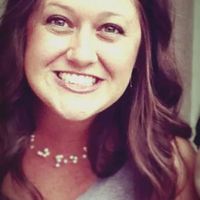 About this author
http://www.mmabie.com

M. Mabie lives in Illinois with her husband. She is the author of the steamy comedy Fade In. Her sophomore release, Bait, is the first book in the angst-filled erotic Wake Series. She writes unconventional love stories and tries to embody "real-life romance."
She cares about politics, but will not discuss them in public. She uses the same fork at every meal, watches Wayne's World while cleaning, and lets her dog sleep on her head. She has always been a writer. In fact, she was born with a pen in her hand, which almost never happens. Almost.
M. Mabie usually doesn't speak in third-person either. She promises.