Mark of Betrayal, by A.M. Hudson ( I kinda facebook stalk her)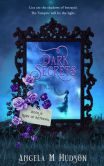 Let Me just say wow!  My journey with this series has been possibly the best journey a series can take you on.  This book with out a doubt is the best of the series so far. Each book just gets better and better.
A.M. Hudson writes so beautifully. She gets you so emotionally involved in the characters. This book took me emotionally in a place that I haven't had a book take me in so long. The love that Ara feels and the hurt that she feels is both breath taking and captivating. We get a lot of depth into some new characters (Arthur) in this book and we also say farewell to some old; Eric, you will be missed. Ara grows so much in this book and if anything this book to me is about her growing and building her strength as a character.
You must read the three books before this one. Each book just picks up where the last one left off. I love that about her that she doesn't waste to much space in the book with back story. There is to much of a new story to tell. It is a Vampire series and so much more. I believe that it is an epic journey of the heart. I continuously check her page for any spoilers because it is one of those stories you dream about after you put it down.  Every time I read a paranormal I am mentally comparing it to this series.  Asking myself can this new read even come anywhere close as to where the Dark Secret Series has taken me.
If you haven't read the dark secret series yet pick it up. You will not be disappointed. This is a 5 out of 5