Lengths by Liz Reinhardt and Steph Campbell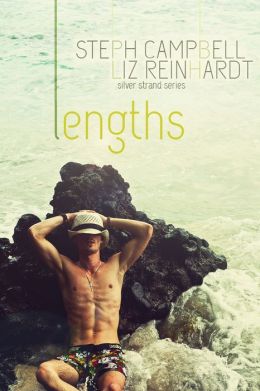 Overview
Nineteen-year-old Whit Conrad leaves her conservative Pennsylvania home for sunny California, looking for independence, a fresh start, and a place to stash her grief. She promptly finds a job at a tattoo parlor, a craptastic first apartment, and one friend—Ryan—who is a little less friend, a little more benefits.
Deo Beckett is a soulful surfer with a passion for tattoos and beautiful women. On the eve of his twenty-second birthday, he finds himself living with his grandfather, recently unemployed, and seriously adrift. He doesn't know much about what he wants out of life, but he does know his current situation isn't cutting it.
When Deo meets Whit, she's all sexy makeup and fierce, smart-ass fun. It doesn't take him long to see past her tough shell. And when he gets a good look at what's under all the superficial stuff that usually gets his attention, it leaves Deo wondering if there might be more to life than living fast and free.
____________________________________________________________
I have had Lengths recommended to me several times and for some reason I just hadn't gotten around to reading it.  I picked it up for a steal at 1.99, on sale for the cover release of the next installment.  Let me say I shouldn't have waited.
Talk about amazing characters!  This book has unique, fun interesting characters, that captivate you throughout the story.  Deo's mom is a hippy with all kinds of herbal remedies.  She is eccentric and overtly sexual.  I loved her, really because my mom in some ways is just like her.
Deo is our book boyfriend and he is a beach bum, with little direction.  He is confident, and sexy and when he figures out that he wants Whit, his carefree attitude starts to go out the window.
Whit is working at a tattoo shop.  She is beautiful and troubled.
This story is about self forgiveness and letting someone love you.  It is both sweet and funny.  It was  a quick read that kept me entertained.
—————
Meet the Author
Steph Campbell and Liz Reinhardt met when they stumbled across each other's YA books and became mutual fans. Over the course of a few months, their fandom turned to friendship, and their friendship led to the kernel of an idea for a New Adult book. Steph sent the first images and ideas. Liz returned a chapter, Steph sent the next chapter back, and the rest is history. Steph lives in dry-hot California with her husband and adorable brood. Liz lives in steamy-hot Georgia with her husband and sweetie-pie daughter. Steph's books include Grounding Quinn, Delicate, and My Heart for Yours (co-written with Jolene Perry). Liz's books include Double Clutch, Junk Miles, Slow Twitch, Forgiving Trinity, and Inherit. The two authors have big plans to write co-write again in the future and maybe move to Italy and pig-out on pizza for a few months.
Coming March 2013