If you Stay by Courtney Cole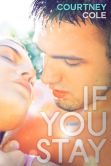 Overview 3.75 stars
24-year old Pax Tate is an asshole.Seriously.
He's a tattooed, rock-hard bad-boy with a bad attitude to match.
But he's got his reasons.
His mother died when Pax was seven, leaving a hole in his heart filled with guilt although he doesn't understand why. What he does know is that he and his dad are left alone and with more issues than they can count.
As Pax grew up, he tried to be the kid his father always wanted; the perfect golden boy, but it didn't work. His dad couldn't overcome his grief long enough to notice and Pax couldn't keep up the impossible perfect façade.
So he slipped far, far from it.
Now, he uses drugs and women to cope with the ugliness, the black void that he doesn't want to deal with. If he pretends that the emptiness isn't there, then it isn't, right?
Wrong.
And it's never more apparent than when he meets Mila.
Sweet, beautiful Mila Hill is the fresh air to his hardened frown, the beauty to his ugly heart. He doesn't know how to not hurt her, but he quickly realizes that he's got to figure it out because he needs her to breathe.
When memories of his mother's death resurface from where he's repressed them for so long, Mila is there to catch him when the guilt starts making sense. Mila is the one…the one who can save him from his broken troubled heart; from his issues, from the emptiness.
But only if he can stop being an asshole long enough to allow it.
He knows that. And he's working on it.
But is that enough to make her stay?
——————————————————————————————-
I bought this book because of its popularity, I had to see what the hype was about.  When I stared reading the first page, my jaw was slightly ajar.  It was not what I was expecting.  I don't think the cover connects with the actual darkness that this book brings to the table.
This is so dark.  Pax is so messed up.  The first time Milla meets Pax, Pax is dead or about dead, from a self induced drug overdose.  She saves his life.  For me this was a struggle to connect with, perhaps from being around one to many messed up people, it was hard for me to see how she would immediately want to put herself in a relationship with Pax.
This story is well written and you definitely get some crazy things happening.  I liked it, but for some reason I had a hard time with it.  It didn't draw me in as much as I would have liked.
There is a nice love story here, and the overall theme is love never fails.  There are some very great scenes with paint and nakedness.  I also really liked that Milla wasn't the virgin needing saving, I start to get sick of every girl being a virgin, Milla was the girl out to do the saving.
__________________________________________________________
Courtney Cole is a novelist who would rather write than eat chocolate. She holds a Bachelor's degree in Business, but no amount of working in the corporate world could quell her urge to write.
Courtney was born and raised in Kansas, home of incredibly friendly people and the most horrendous weather on the planet. Because summer days were so hot, she grew up reading stacks of books… and when she didn't like the ending, she wrote her own.
Courtney loves hot pink nail polish, Mitch Albom and thunderstorms (not necessarily in that order).
She currently lives near Chicago with her real life Prince Charming, two sons, one daughter and small domestic zoo. To learn more about her, visit www.courtneycolewrites.com