Grounding Quinn by Steph Campbell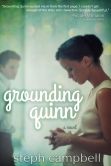 Overview 4.5 stars
Eighteen-year-old Quinn MacPherson's biggest fear has always been turning out like her mentally unstable mother. (Solving algebraic equations comes in as a close second.)
That is, until she meets Benjamin Shaw.
Quinn thinks hooking up with Ben over summer vacation will be nothing more than a quick fling. She can't even commit to a nail polish choice, much less some guy.
Unfortunately for her, Ben is not just some guy. Ben gets her- the real her, flaws and all- and that scares the hell out of her.
When Ben does the unthinkable- tells Quinn he's in love with her- she does what comes naturally. She pushes him away. Ben can only watch from a distance as Quinn lashes out, and punishes him for daring to care about her.
But how far can you push someone, even someone who loves you, before they are gone for good?
GROUNDING QUINN contains swearing, drug use and sexual situations. It is intended for the mature/older reader.
GROUNDING QUINN is a companion book to DELICATE.
_____________________________________________________________
Wow so let me start by saying that I read a couple of bad reviews for this book on goodreads saying that it was a typical story.  F That!  I just finished reading and I am in the mood to go on goodreads and call anyone who reviewed this poorly all kinds of unkind words.
Quinn broke my heart through out the whole story.  She is a girl in so much pain from her completely dysfunctional family.  At one part I felt like reaching right into the pages and screaming at her dad for being so blind in his selfishness that he wont see what he is doing to his daughter.
Quinn's mother is mental.  At one point Quinn says that her mother is lucky her and her brother were never removed from their home.  She is manic, over medicated and a drunk. All of these are an extreme family disease.
This book brings to light how much the illness of a family can corrode its children.  She needed help.
In walks Ben.  He is everything to Quinn but she is so messed up from her dysfunctional family that she struggles to being okay with feeling and letting someone love her.  He is perfect for her though.  So compassionate, caring, protective and loyal with lines like this,
If I never saw a sunset through your eyes, 
I'd never know loss, or wounded pride.
If I never felt love like you made me feel,
I'd never believe that my heart was real.
I am anxious to finish this review so I can read the next one, Beautiful Things Never Last.
Meet the Author
Steph Campbell grew up in Southern California, but now calls Southwest Louisiana home. She has one husband, four children and a serious nail polish obsession