#DualReview~~All Your Perfects by Colleen Hoover #5BlushAlert


All Your Perfects
By Colleen Hoover
The #1 New York Times bestselling author of It Ends with Us—whose writing is "emotionally wrenching and utterly original" (Sarah Shepard, New York Times bestselling author of the Pretty Little Liars series)—delivers a tour de force novel about a troubled marriage and the one old forgotten promise that might be able to save it.
Quinn and Graham's perfect love is threatened by their imperfect marriage. The memories, mistakes, and secrets that they have built up over the years are now tearing them apart. The one thing that could save them might also be the very thing that pushes their marriage beyond the point of repair.
All Your Perfects is a profound novel about a damaged couple whose potential future hinges on promises made in the past. This is a heartbreaking page-turner that asks: Can a resounding love with a perfect beginning survive a lifetime between two imperfect people?
Christina's 6 Blush Up All Night Review
I'm really struggling to find the words to adequately "review" this book. Words that might excite you or entice you to read it. I'm struggling because no words that I can find will ever be adequate enough to convey how much I loved this book. I'm not going to take time to summarize the plot; you've already read the blurb. What I want you to know about this book is precisely this: you will feel. And you will feel EVERYTHING. Every emotion known to man will cross your heart at one point or another while experiencing Quinn and Graham's story. Confusion, hurt, disbelief, pain, denial, frustration, PEACE, ACCEPTANCE, HOPE and finally……..HAPPINESS.
This isn't an "easy" read. It's very very painful at times. It's painful because it's so real in its depiction of marriage and the struggles surrounding starting a family. It's so real that I had to set the book down a few times and just breath for a few moments. I was not expecting to read some of the heartache that can be found within the pages of All Your Perfects. The truth is, this book is completely perfect from beginning to end. Some people might be conflicted over the end of the book but not me. I loved everything about it.
Some books really touch you deeply and force you to turn inward, examining your own life choices and experiences. This was one of those times where I reflected on myself as a wife and mother asI read. I'm a better wife/mother today than I was two days ago. I'm so thankful for the experiences and love I've had in my life. Sometimes when life gets busy and hectic and frazzled, you can forget to appreciate all that you have. I needed to hit the pause button and remember and that's what this book did for me. I will never forget Graham and Quinn's story and can't wait for what the future holds.
Tera's 5 Blush Up All Night Review
"If you only shine light on your flaws, all your perfects will dim."
I sometimes feel like I am writing the same review over and over again for Colleen Hoover. I say this not because the stories are so similar because they are not, but because of the mere fact that I've been so compelled to try and out-write my last 5 star review and replace it with the most recent one. There are not many authors I consistently write 5 star reviews for but Colleen rarely disappoints. All Your Perfects is obviously no exception. This was an easy 5 star rating to give out.
Colleen writes about marriage in this book. I think that is the simplest way to describe this story. Quinn and Graham truly do have the perfect love, but lost the perfect marriage along the way.
"Apologies are good for admitting regret, but they do very little in removing the truth from the actions that caused the regret."
At first, it seemed difficult to like Quinn despite her hardships. It seemed so easy for me to "pick a side" in the relationship in this case. Despite how I initially felt about Quinn, she is real. Many women will relate to her. Myself included which is WHY it was difficult to like Quinn for me. The feelings of failure and resentment within her marriage are depicted so devastatingly true to life, it was sometimes even a little hard to read. But as usual, Colleen constructs a plot and an ending that is so incredible. It was so realistic. It was so perfect. And in the end, Quinn and Graham BOTH stole my heart.
"No matter how much you love someone– the capacity of that love is meaningless if it outweighs your capacity to forgive."
Once again, a story delivered by Colleen is truly full of all the perfects. All the perfect characters with all the perfect flaws. All the perfect emotions with all the perfectly devastating outcomes. All the perfect strength within these characters to find some way to overcome such perfect devastation.
"Gratitude is born in the struggle."
But just how perfect do Quinn and Graham end up at the end of it all?
PREORDER AVAILABLE:
Kindle: http://amzn.to/2oW3RRS
Hard Cover: http://amzn.to/2twtptO
Paperback: http://amzn.to/2G4wfZv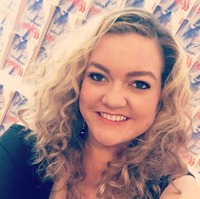 About the Author:
International and #1 New York Times bestselling author of romance, YA and Women's Fiction.
Still doesn't know the difference between affect/effect, further/farther, or if the oxford comma is in or out.
If you want to follow me, my username is @colleenhoover pretty much everywhere except my email, which is colleenhooverbooks@gmail.com
Founder of www.thebookwormbox.com charity. We've donated over one million dollars to various charities. Give us your money so we can donate even more.
Connect with Colleen Hoover:
Website: www.colleenhoover.com