COVER REVEAL from Tara Oakes & A Sneak Peak from Pepper Winters
SYNOPSIS
WARNING***
This novella is intended for those 18+ of age and contains strong language, sexual content, and adult situations.The Kingsmen M.C's saga continues in this newest installment of Tara Oakes' tantalizing new series. In the first three novella's you've come to know and love the characters within the club. Jay and Lil's have had their epic love story play out over the pages of "A Lil' Less Broken", followed by "A Lil' Less Lost" and finally, "A Lil' Less Hopeless". While their fairytale is far from over, the next arc in the series concentrates on some of the other intriguing characters that have been woven throughout Jay and Lil's storyline.The question on everyone's mind is…. WHO IS CHARLIE? And what is she hiding?
Planting herself deep within the club's inner circle, Charlie came to Chisolm with one goal in mind… to destroy the Kingsmen, M.C., no matter the personal cost. An unknown hatred fuels her mission to take them down. Pairing herself up with one of the club's bad boy's, the M.C.'s enforcer, Clink, seemed like just the ticket to get her in the door.Once inside the club she had been eyeing from afar, she comes to realizes things are very different from what she had imagined them to be. Villainizing the group as a whole for an injustice that was done to her many years earlier no longer seemed to fit with growing attachments and relationships she was forming.And then there's Clink. He may very well be the wild card thrown into the mix that derailed Charlie's plans from the get go. Originally, serving as nothing but a way in to the club, and a body to warm her sheets at night, Clink has thrown Charlie for a loop. Determined from an early age to never need a man, Charlie can't help but find herself drawn to him in a carnal and ethereal way. She's tried to fight it, to deny it, but it was in vain. He calls her sugar… but, she's anything but sweet.A chance twist of luck placed Charlie right in the middle of club politics, where she was able to help free the club's Vice President, Jay, from serving time for murder he did not commit, but willingly confessed to in Book 2. Her risk earned her the hard earned respect and admiration that is hard to come by in the world of the M.C.Now that she finally has a place of her own in life, a place where she belongs and is wanted… is she willing to give it up? Give Him up? Willing to let it all slip through her fingers? Find out in Book 4 of Tara Oakes' Kingsmen M.C. series, "Bitter Sweet Deception".If you're looking forward to Bitter Sweet Deception, releasing on FEBRUARY 25TH, make sure you pre-order a copy:
Amazon US

TEASERS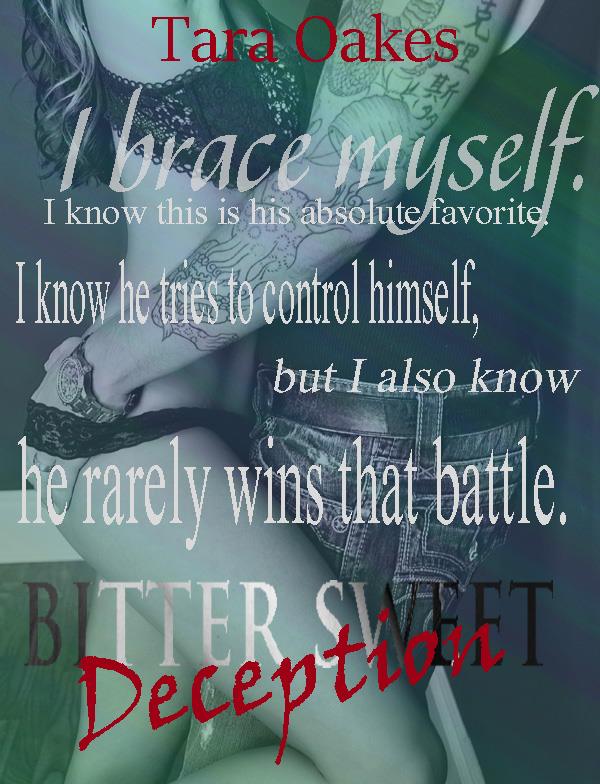 OTHER BOOKS BY TARA OAKES
LEARN MORE ABOUT TARA
Tara is a thirty something newbie author from Long Island, New York. She's a voracious reader, a passionate writer and obsessive junk T.V. aficionado. When she's not doing one of those three things she is attempting to garden, hanging with her hubby or partaking in some retail therapy. She enjoys connecting with her readers and is having a blast entering into this new world of publishing.
FIND TARA ONLINE
Twitter: https://twitter.com/Lil_Oakes
Amazon: http://www.amazon.com/Tara-Oakes/e/B00N71SH18/ref=ntt_athr_dp_pel_pop_1
Facebook: https://www.facebook.com/pages/Tara-Oakes/1468537190061965?ref=hl
Goodreads: https://www.goodreads.com/author/show/8390968.Tara_Oakes
Website: https://www.taraoakes.com
Sneak Peek Excerpt (Post on January 23rd)
Excerpt from Second Debt by Pepper Winters.
RELEASE DATE: January 26th
I'D TAKEN HER, but ultimately, she'd taken me.
I'd tried to destroy her, but serendipitously, she'd destroyed me.
This was the beginning of the end.
Not the end of my feelings for her but the way of my life, my world.
Something would have to change.
Something would have to give…
…
Someone would have to die.
EXCERPT TWO:
Just thinking of Jethro sent a spasm of desire through my core.
Dammit, what's happening to me?
A daydream of Jethro slamming to his knees before me and wrenching my legs wide stole my mind. It was so vivid, so real—a trickle of need ran down my inner thigh. I gasped as I imagined his tongue lapping at my clit, his long fingers disappearing inside me—the same finger that I'd tattooed with my name.
Would I come harder knowing he touched me with a finger branded by me? Or would I hold on as tight as I could and make him work for it?
Oh, God.
I needed to get rid of this satanic desire. I needed to be free.
My eyes opened, latching onto the detachable showerhead.
I could do it myself…
My heartbeat whizzed with need. I couldn't fight the churning demand any longer.
Reaching upward, I unhooked the showerhead and turned the water temperature down so as not to burn myself.
Feeling awkward and ridiculous and a hundred times guilty for what I was about to do, I braced my back on the tiled wall and spread my legs a little.
My teeth clamped on my bottom lip as the water pressure tickled my clit.
Oh. My. God.
My eyes rolled back as I grew bolder and pressed the stream of heavenly water harder against my pussy.
Water cascaded down my legs while my torso shivered from sudden cold. My nipples stiffened as I wickedly angled the jet down and down until water shot inside me. Every jet and bubble aroused sensitive flesh, sending my muscles clenching in joy.
I moaned.
Loudly.
My legs trembled as my neck flopped forward and I gave myself over to the exquisite pleasure conjured by an innocuous showerhead.
Starbursts flashed behind my eyelids; Jethro loomed into my mind. I pictured him shrugging out of his black shirt, prowling toward me while unbuckling his belt and unzipping his trousers. I moaned again as my daydream shed his clothing and stood proud and naked before me. He grabbed his cock, pumping himself hard and firm, while his eyes feasted on what I was doing. He didn't say a word, only watched, then crooked his finger and beckoned me closer.
My heartbeat exceeded recommended limits as I forced myself higher and higher, locking my knees against buckling as an orgasm brewed into being. I rocked the showerhead, biting my lip as the pressure spurted over my clit and then inside me. The rhythm I set was exactly like fucking and I daren't overthink how I looked or how depraved I felt getting off this way.
My daydream forced its way past my misgivings. My forehead furrowed as I trembled, both welcoming and fighting an orgasm.
Daydream Jethro crept closer, working his cock, a dangerous glint in his eyes. The moment I was within grabbing distance, he captured my waist. "I need to be inside you, Nila." I put words into Jethro's mouth, but it was his voice I heard in my heart.
I moaned again, angling the showerhead harder against my clit.
"How do you want it?" my fantasy whispered in my ear as he spun me around and pressed me hard against the wall.
I swallowed hard, answering in my mind. "Fast and…"
"Filthy?" Daydream Jethro's nose nuzzled the back of my ear, sending shockwaves down my spine. "I can fuck you filthy."
I couldn't speak. But I didn't have to. My fantasy knew exactly how I needed it. Jethro bit the back of my shoulder, spreading my legs wider with his.
"Fuck me, Jethro Hawk," I whispered.
"Oh, I will. Believe me, I will." Without further warning, he dug his fingers into my hips and slammed inside me.
My fingers went numb as I slid the showerhead from clit to entrance. I cried out as water shot inside at the same time as Jethro thrust into me from behind, sliding deep and fast, stretching me deliciously painfully.
My heart exploded with bliss. An orgasm squeezed every atom, getting ready to hurl me into the stratosphere.
Jethro thrust again and I rode my new friend the showerhead.
"Oh, God. Yes," I hissed, rocking harder. "Yes, yes…"
A masculine cough sounded. "You continue to surprise me, Ms. Weaver; at least this time, I rather enjoy it."
Everything crashed into awareness. My daydream shattered, fracturing by my feet like broken glass. I squealed and dropped the showerhead. It turned into a water snake, spewing water left and right, wriggling like some terrible demon.
Jethro snickered. "You're using up the entire Hall's supply of hot water. Are you planning on saving some for the rest of the inhabitants of my home?"
About the Author:
Pepper Winters wears many roles. Some of them include writer, reader, sometimes wife. She loves dark, taboo stories that twist with your head. The more tortured the hero, the better, and she constantly thinks up ways to break and fix her characters. Oh, and sex… her books have sex.
She loves to travel and has an amazing, fabulous hubby who puts up with her love affair with her book boyfriends.
Her Dark Erotica books include:
Tears of Tess (Monsters in the Dark #1): AMAZON
Quintessentially Q (Monsters in the Dark #2) AMAZON
Her Grey Romance books include: AMAZON
Destroyed
STALK Pepper: Website | Pinterest | Facebook | Twitter | Blog | Goodreads
THANK YOU!