Charade, by Nyrae Dawn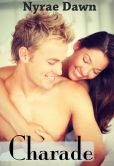 Overview
Nineteen-year-old Cheyenne tries to portray the perfect life to mask the memories of her past. Walking in on her boyfriend with another woman her freshman year in college threatens that picture of perfection.
Twenty-one-year-old Colt never wanted college and never expected to amount to anything, but when his mom's dying wish is for him to get his degree, he has no choice but to pretend it's what he wants too.
Cheyenne needs a fake boyfriend to get back at her ex and Colt needs cash to take care of his mom, so they strike a deal that helps them both. But what if Cheyenne's past isn't what she thought? Soon they're trading one charade for another—losing themselves in each other to forget about their pain. The more they play their game, the more it becomes the only thing they have that feels real.
Both Cheyenne and Colt know life is never easy, but neither of them expect the tragedy that threatens to end their charade and rip them apart forever.
Mature content: language, drug references and sexual situations.
So I saw a recommended reading list from Abbi Glines.  Most of the books on her list, I have loved or keep meaning to read.  So Charade was on there  and strange enough I have never heard of this book.  I was in luck to because it was right there from my B&N friend waiting for me to borrow.
This book is a quick read.  That being said there is not anything that you miss out on with it being a quick read.  There is angst.  There is love.  There is Pain.  There is healing.
I do not feel like the synopsis for this book does it justice.  This is a beautiful story of two people coming together with a lot of pain in their life.  They are an unlikely pair.  However it is in their shared grief that they learn to love another and to heal.
I enjoyed this story very much, it had every element that I look for.  I would highly recommend this.  This is the type of book that once you read you want to scope out everything the author has written.
Meet the Author
When not playing with her kids or spending time with her husband, Nyrae Dawn can almost always be found with a book in her hand or an open document on her laptop. She couldn't live without books—reading or writing them. Oh, and chocolate. She's slightly addicted. Nyrae is a romantic at heart, living her very own happily-ever-after in California with her gorgeous husband and two incredible kids.