#BlogTour #Review ~~ Waiting for my Queen by Georgia Cates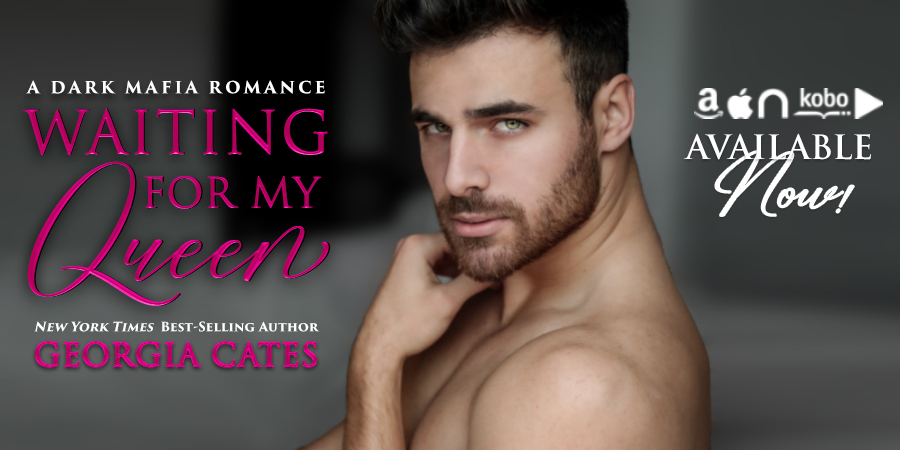 ?? HOT NEW RELEASE ??
The wait is over! Waiting for my Queen by Georgia Cates is LIVE!! #OneClick today!
STEPHANIE'S 4 BLUSH REVIEWED
Waiting for My Queen is an old school, New York mafia story, circa late 1970's. Disco, cocaine and arranged marriages are the norm. But what happens when you try to change the rules? Consequences are felt deep and wide. In the author's note Georgia Cates asks that we give Luca Rossini, the antihero, time before we decide that he's unredeemable. By chapter four I wasn't sure that it would be possible.
I never wanted money or power. Love and happiness have been my only true desires in life.
Emilia Bellini is betrothed to Luca Rossini. This has been planned since birth. Circumstances and situations make this a difficult transition with several dark scenes as a result. As their story moves forward I felt many emotions. Shock, fury, anger and then relief to name a few.
"A queen will always turn her pain into strength and strength into power."
The writing is straight forward. The story has a strong and steady build up. I loved watching the evolution of Emilia and Luca and that included the intimacy and passion that sparked between them. It was definitely a difficult path to redemption for Luca. The 70's music and the family traditions completed the mafia vibe and rounded out their story.
Once upon a time, a devil fell in love with an angel.
Waiting for My Queen will keep you on your toes as you fly through the pages, I read it in just about one sitting. I would definitely read more as there are many siblings and secondary characters that have stories to tell.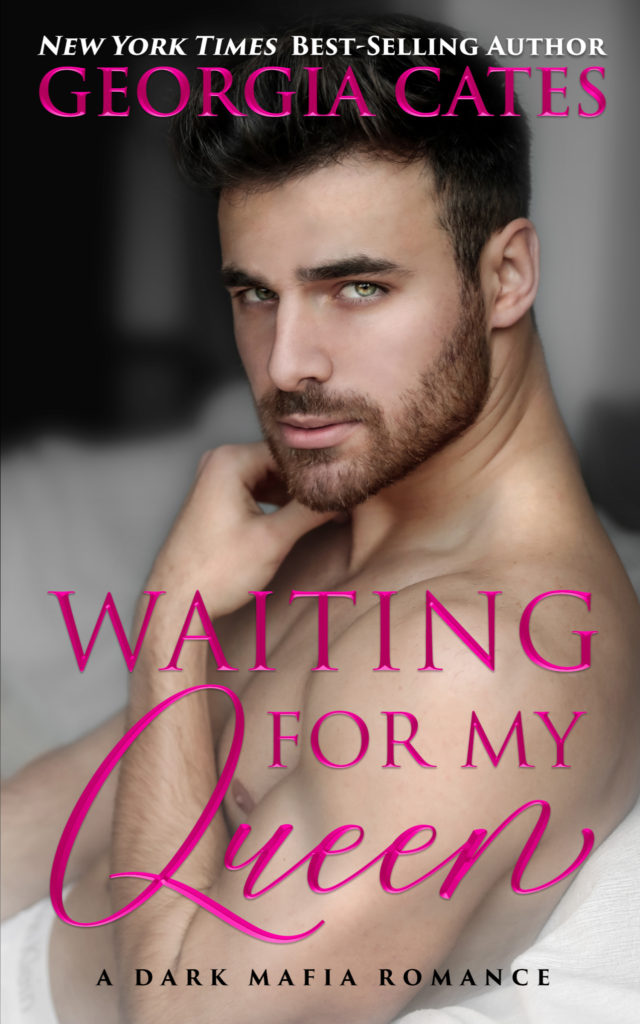 BLURB
Emilia—
All I've ever wanted was to marry for love.
But girls like me don't have that luxury.
We are used as pawns in a game we can't control.
The game? It's called Mafia.
I was foolish enough to try to change the rules… and I lost.
Luca—
She was promised to me years ago.
And he dared to take her from me.
Dared to touch what was mine.
I put an end to that.
I hope he's enjoying the view from his dirt room.
Emilia—
My beloved's killer placed a ruby ring on my finger and called me his queen.
But that red gem symbolizes something different for me.
It represents the blood shed by those I love most.
Hell was empty the day we wed.
Because the devil was standing before me and said "I do."
Luca—
I saw her as a possession.
A shiny toy I didn't want other boys to play with.
But she's so much more.
Beautiful and brave and strong and broken all at once.
She tastes like everything I've ever wanted.
Emilia—
Hidden and patient.
I wait for the perfect time to seek my revenge.
But slowly, I feel him possessing me.
His heart is full of darkness… and I still want every inch of him.
Hard as I try, I can't escape loving this beautiful monster.
Luca—
I'm waiting patiently because I already know that she's mine.
Mine in a way that no one will ever understand.
Even if she hasn't yet realized it.
For love, I'd do anything.
For her, I'd do everything.
Add Waiting for My Queen to your Goodreads TBR: http://bit.ly/2QOCCWM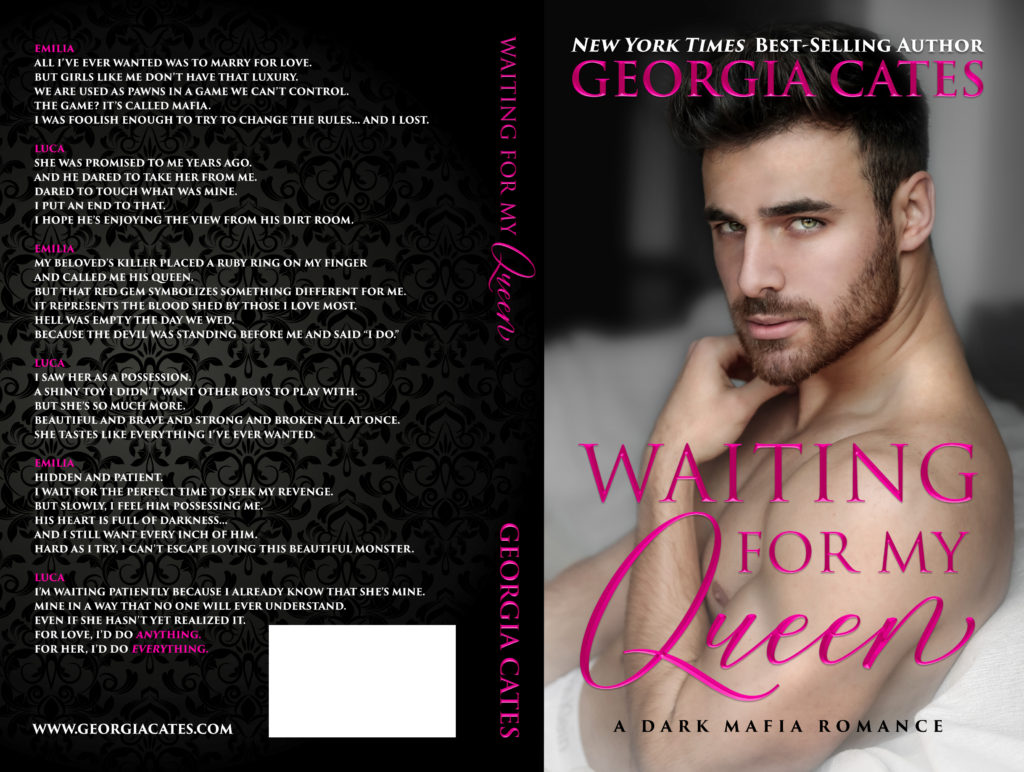 PURCHASE LINKS
Amazon: https://amzn.to/2T9Xgmq
Apple Books: https://apple.co/2NWxfEG
Nook: http://bit.ly/2r8hYHG
Kobo: http://bit.ly/2qe0xpn
Google Play: http://bit.ly/2qrhah9
GIVEAWAY
To celebrate the release of Waiting for my Queen, Georgia Cates is giving away ten signed paperback copies!
Enter here: https://www.facebook.com/213130102082500/posts/2976934679035348/
TEASERS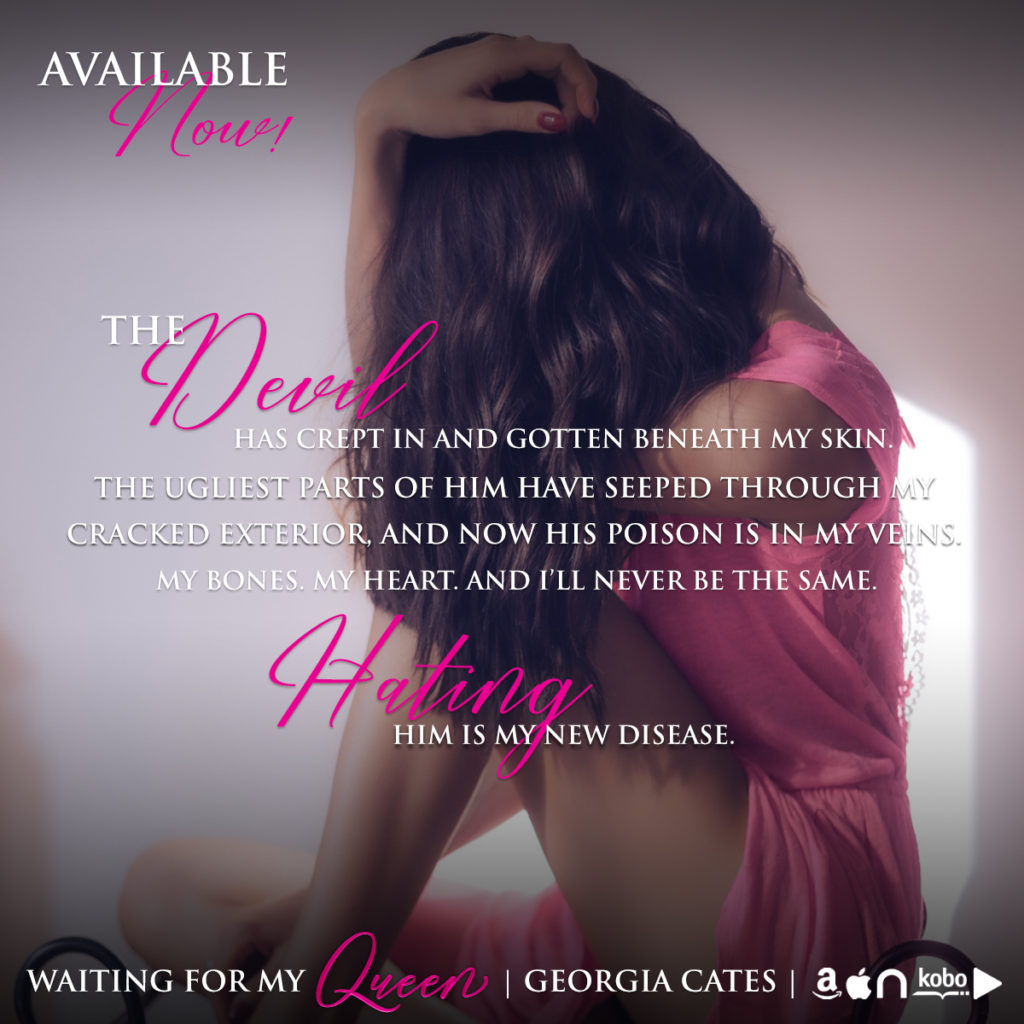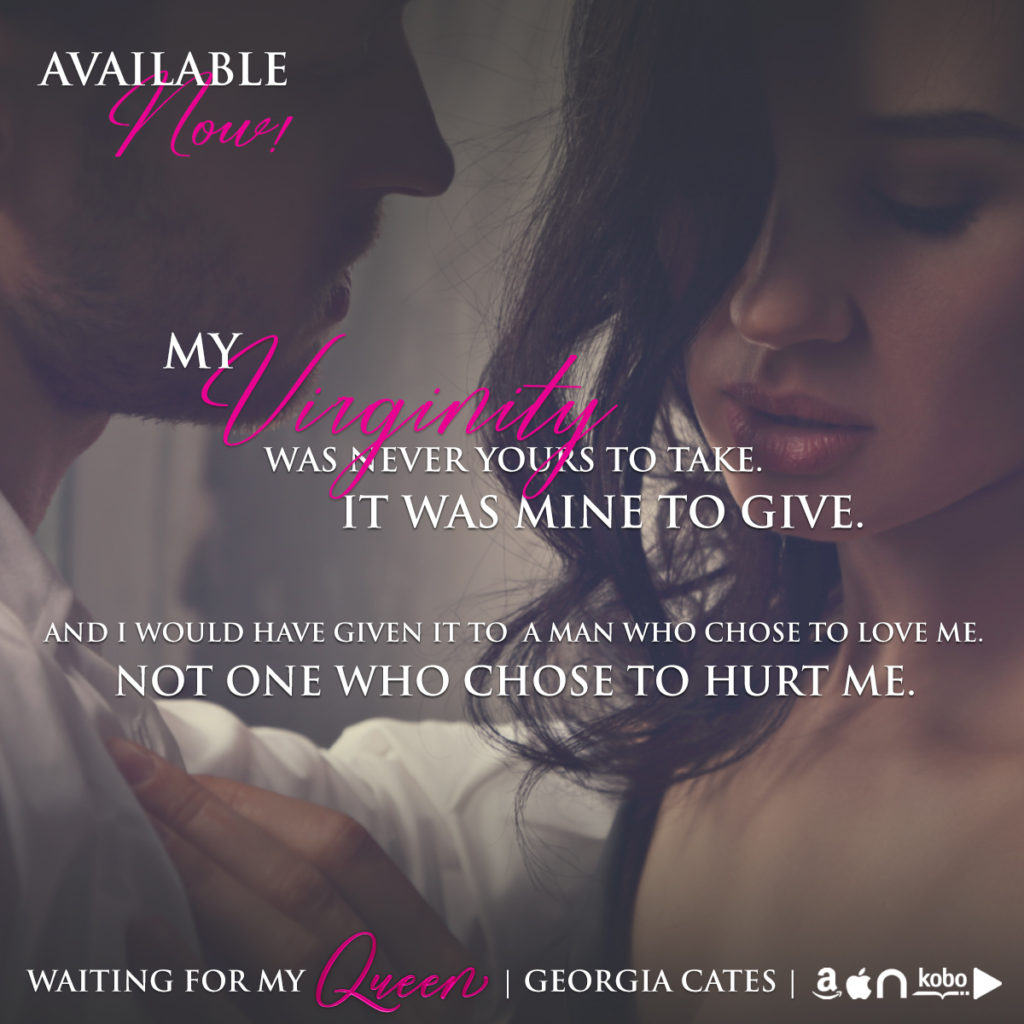 ABOUT THE AUTHOR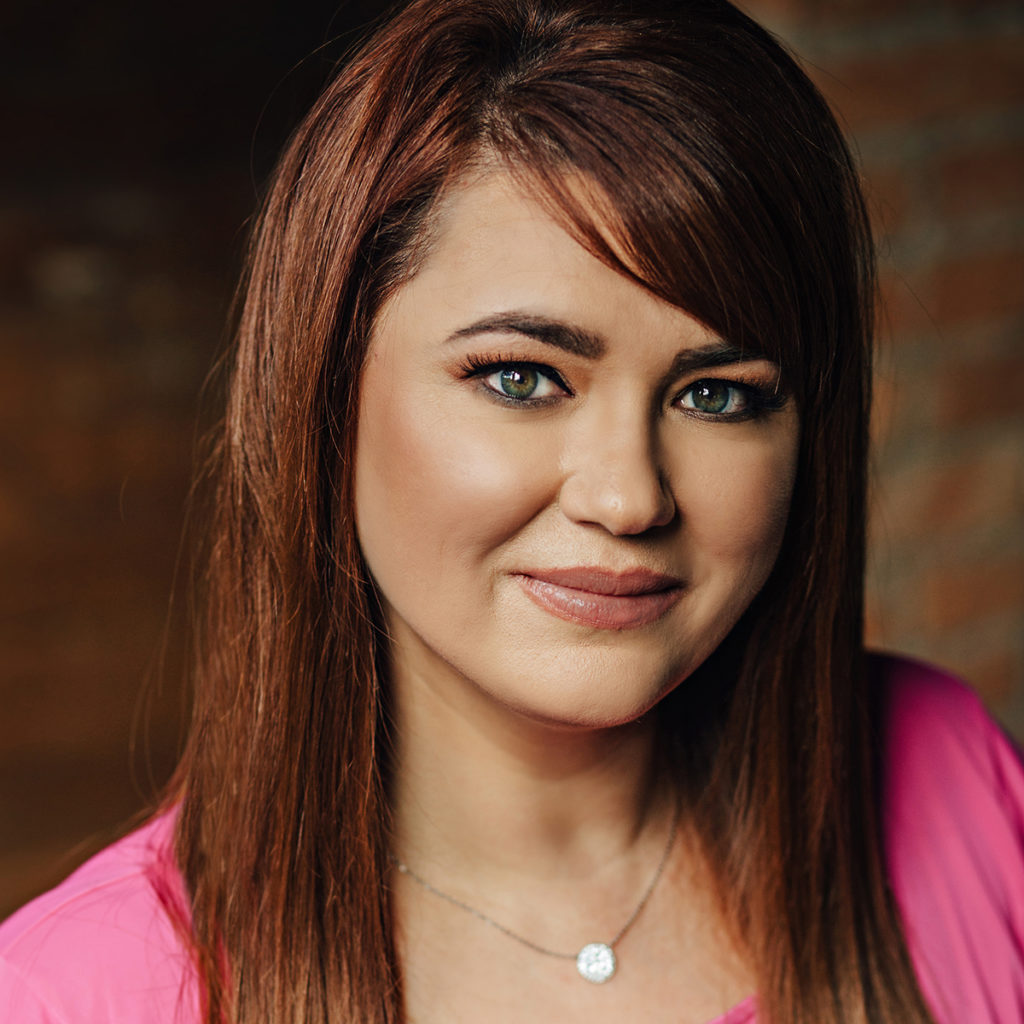 Georgia resides in rural Mississippi with her wonderful husband, Jeff, and their two beautiful daughters. She spent fourteen years as a labor and delivery nurse before she decided to pursue her dream of becoming an author and hasn't looked back yet.

When she's not writing, she's thinking about writing. When she's being domestic, she's listening to her music and visualizing scenes for her current work in progress. Every story coming from her always has a song to inspire
AUTHOR LINKS
Facebook: https://www.facebook.com/GeorgiaCatesAuthor
Facebook Author Group: https://www.facebook.com/groups/GeorgiasGems
Twitter: https://twitter.com/GeorgiaCates
Instagram: https://www.instagram.com/authorgeorgiacates/
Tumblr: http://authorgeorgiacates.tumblr.com/
Goodreads: https://www.goodreads.com/author/show/5228869.Georgia_Cates
Website: http://georgiacates.com/
Amazon: http://bit.ly/GeorgiaCatesAmazonPage
Bookbub: https://www.bookbub.com/authors/georgia-cates
Pinterest: https://www.pinterest.com/georgiacates1/