Blog Tour ~~ Revived by Samantha Towle

Happy Release Day to Samantha Towle and her new book REVIVED! This is Leandro's story! Read a sneak peek below and make sure to enter the giveaway! Good luck!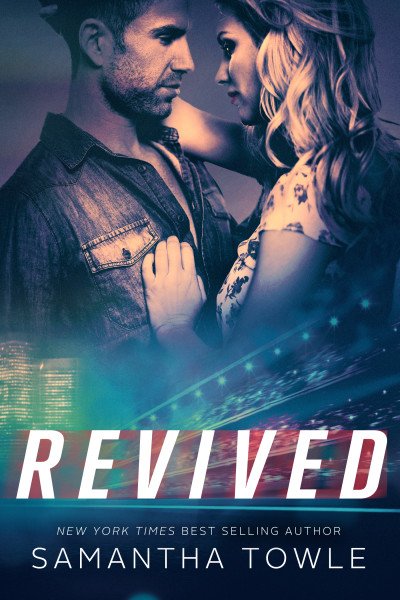 India Harris didn't have the best start in life. Abandoned as a baby, she and her twin brother, Kit, spent their lives in foster care, only having each other to rely on. Then, at a young age, a relationship with the wrong man left India pregnant. Wanting to give her son the life she never had, she put herself through school and graduated with honors.
Now, at the age of thirty, she's a highly respected therapist.
At the top of his game as a Formula One driver, Leandro Silva had everything—until an accident on the track left him staring death in the face. After enduring twelve months of physical therapy, Leandro is now physically able to race, but his mind is keeping him from the track. Frustrated and angry, Leandro's days and nights are filled with limitless alcohol and faceless women.
Entering the last year of his contract, he knows he has to race again, or he'll lose everything he spent his life working for. Forced into therapy to get his life back, Leandro finds himself in the office of Dr. India Harris.
Falling for his uptight therapist is not part of Leandro's plan.
Having unethical feelings for her patient, the angry Brazilian race car driver, is not part of India's plan.
But what if the wrong person is the only person who is right?
DAWN'S 4 STAR REVIEW
If you read Revved, then you have met Samantha Towle's hot race car drivers. Each of them having a larger than life personality. In Revvived, we get up close and personal with Leandro Silva. He is a Brazilian race car driver and Carrick Ryan's main competition…. He was always arrogant, confident and hot as hell. Until one unfortunate day. He had a near fatal accident during a race. It changed everything. Now he a is shell of himself. He's gone through physical therapy, but mentally he is paralyzed. He can't get into a car. This means devastation to a race car driver. He's been self medicating with booze and broads. Until he meets her… One slight problem, India Harris is his therapist. India feels the same chemistry as Leandro, but it can not happen. She is his doctor. The push and pull with these two is frustrating and exciting. They connect on every level. It would be so easy to let nature take its course, but it's unethical. I loved getting to know them. They have some serious chemistry, as well as a great friendship with mutual respect. Leandro and India are smokin' together. He is a dirty, dirty boy! I had a permanent blush on my cheeks. Hee hee. His sex appeal is off the charts. India Harris is compassionate, bright and loving, but she has her own skeletons and past. She has come a long way, but still has some issues, especially with men. Can Leandro break through her walls? Can India change this playboy?
Once again, Samantha has created wonderful characters that you can't help but admire. Each of them being unexpected and more than meets the eye. One thing Revived shows you is that your life can change in an instant…. This book is different from Revved. Less angst, more erotica with plenty of sweetness. There are new characters and happy surprises. It's more laid back, but still keeps you wanting more. I was ecstatic to see Carrick and Andi throughout. Carrick is more tame, but still was as cocky as ever. His bromance with Leandro kept me smiling. There are so many wonderful attributes in this book. It's a fun, very sexy, quick read. I loved reading more about the formula 1 gang! I hope there is more to come…..
An arc of Revived was provided to Blushing Babes are Up All Night Book Blog for an honest review.


My eyes move to the magazines on the table. A sports mag is peeking out from under the fashion mags. Leaning forward, I pull it out, instantly wishing I hadn't.
On the cover of the magazine is a picture of me with the caption, What the Bad Side of Formula 1 Looks Like.
Nice.
So, now, I'm the bad side of Formula 1. Good to know.
I already know what the media say about me. How I've turned from a great racer into a drunk and a whore.
They're not wrong on the whore part. Well, whore is a bit harsh. I don't charge for my services. And I wouldn't say I'm a drunk. I just like to drink—a lot.
I shouldn't read the article. I know this, but the sadistic part of me has me turning those pages.
Finding the article, eyes scanning the text, I pick out the usual shit.
Why is Silva no longer racing? Physically, he's healthy. Is it mental problems? Fear over racing because of his accident? Is that why he drinks—drowning his misery in alcohol? Such a shame to see a once great driver fall from grace so dramatically.
Frustration and rage grip my chest like a vise.
Fuck this. I don't need this shit.
Even though I can't race, it's not like I actually need to.
I don't need to race. I just need to drink and fuck. That's all I need now. All I will ever need.
Liar.
I'm a liar and a chickenshit. And that's why I'm sitting in the waiting room to see a therapist.
Maybe I am beyond help.
Tossing the magazine back onto the table, I get to my feet, ready to leave this place, just as the door opens, revealing the epitome of what I could really do with screwing right now.
My eyes trail up the tanned, toned legs to the fitted pencil skirt that I would happily hitch up to see the magnificent pussy that I bet lies beneath. A pale-pink blouse is tucked into that skirt, covering what looks like a fantastically sized pair of tits. Silky blonde hair sits on her shoulders. Hair that I would enjoy getting my hands all tangled in while I fuck those bright red lips of hers, enjoying seeing that lipstick smeared all over my cock.
My dick pulses in my jeans, more than ready to proposition her with the offer.
"Mr. Silva." She steps forward. "I'm Dr. Harris. But please call me India."
She's Dr. Harris?
This hitch-your-skirt-up-and-let-me-fuck-you-right-now woman is my new therapist.
Well, that's just fucking great. It's not like I can bang my therapist.
I put my cock on hold and give her my best smile, the one that always has panties dropping to the floor, as I say, "And you can call me Leandro."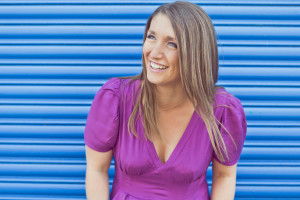 New York Times, USA Today, Wall Street Journal and international bestselling author Samantha Towle began her first novel in 2008 while on maternity leave. She completed the manuscript five months later and hasn't stopped writing since.
She has written contemporary romances, THE MIGHTY STORM, WETHERING THE STORM, TAMING THE STORM and TROUBLE.
She has also written paranormal romances, THE BRINGER and the ALEXANDRA JONES SERIES, all penned to tunes of The Killers, Kings of Leon, Adele, The Doors, Oasis, Fleetwood Mac, and more of her favourite musicians.
A native of Hull and a graduate of Salford University, she lives with her husband, Craig, in East Yorkshire with their son and daughter.
Facebook | Twitter | Website | Goodreads
♥ Books in the Series ♥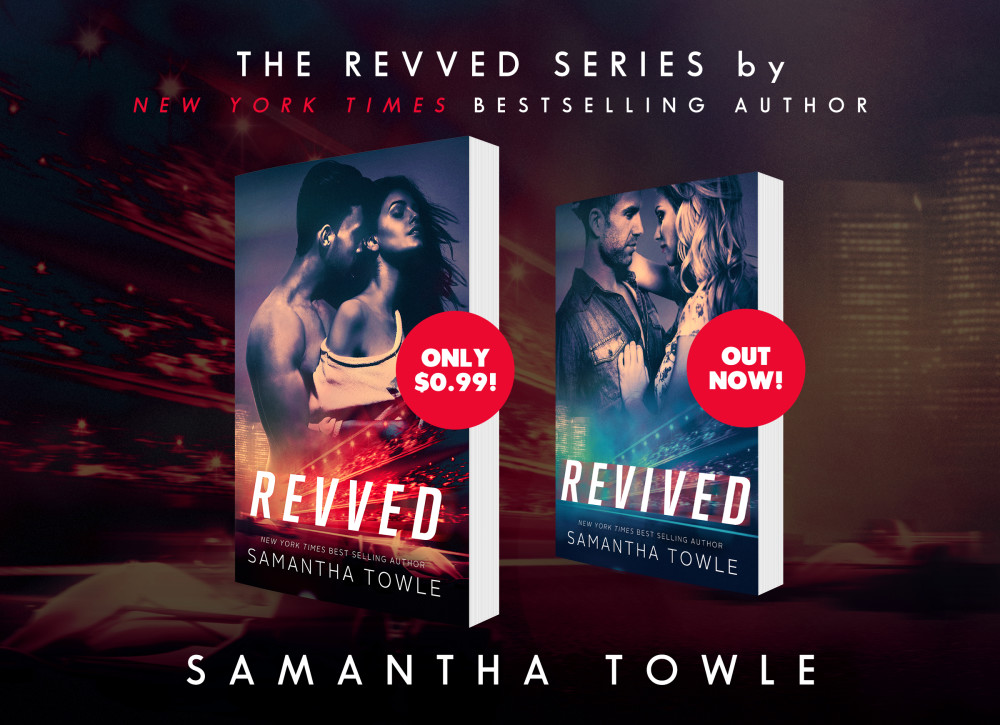 Book 1 – Revved
**Revved is on SALE for a limited time for $.99**
Book 2 – Revived