Blog Tour: FALLING INTO YOU by Jasinda Wilder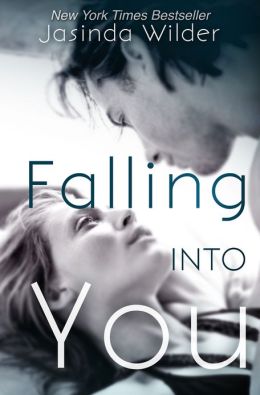 4.5 Steamy Stars
Overview
I wasn't always in love with Colton Calloway; I was in love with his younger brother, Kyle, first. Kyle was my first one true love, my first in every way. Then, one stormy August night, he died, and the person I was died with him.
Colton didn't teach me how to live. He didn't heal the pain. He didn't make it okay. He taught me how to hurt, how to not be okay, and, eventually, how to let go.
Synopsis
Nell Hawthorne is in love with her life-long best friend, Kyle Calloway. Things are great, and they're in love, young, full of promise. Then Kyle dies in a tragic accident and Nell is forever changed. She meets Kyle's older brother Colton at the funeral, and there's a spark, but it's wrong and they both know it. The moment passes, and they both move on with life. A couple years later, they meet again in New York City, and colton realizes that Nell has never really gotten over Kyle's death, and seems to be harboring a deeply rooted pain, something like guilt, perhaps. He knows he shouldn't get involved, but he can't help himself. Trust doesn't come easily for either of them, and they both have demons, Colton especially. Together, they learn the purpose of pain and the meaning of healing, and the importance of forgiveness.
This New Adult romance novel contains graphic scenes and is intended for mature audiences. HEA ending.
Abby's Review:
Holy Hot Damn!  Um Wow!  I am fanning myself and had to take several breaks while reading this because it was so damn steamy.  Look out all those book boyfriends, there is a new man in the book world and his name is Colt.  He is the sexiest damn bad boy. I can barely put into words how hot Jasinda Wilder made this man.  Look out Christian Grey, there is a new sex god.  His dominating nature was some of the sexiest scenes I have ever read in a book.
I really only want to talk about Colt.  He kind of made me forget that any other character existed.
But, we can talk about the others,  if we must.  Nell starts off as the sweetest girl.  She has her life planned and is in love with the very sweet Kyle.  He is her first everything.  He dies tragically and it changes Nell forever.  After the funeral Colt finds her and then again two years later.  She is so incredibly damaged.
As much as I would like to say that this book is about the hottest damn sex I have ever read, its real theme is about loss and recovering from tragic heart ache.  Grief can be so overwhelming.  Nell has to learn eventually with Colt's help that it is okay to grieve.
Dawn's Review

Beautiful. Broken. Heart-rending. Real. Electric. Love. Passion.
I could not put this book down! My emotions rode the roller coaster from laughter to tears to heartbreak to passion. Jasinda Wilder is amazingly talented in writing a story that digs deep and makes you FEEL everything. It starts out innocently enough with a young love story between Nell and Kyle but I knew that something awful was going to happen. I wanted to cover my eyes and stop reading but I couldn't. I just had to know what happened next, however painful. Cue the ugly cry!
Fast forward two years to Colton and Nelly. Both broken in some way, both having jagged edges and ghosts to deal with. Every time they are together I was holding my breath, consumed with their passion and pain. Their connection is electric and beautiful. I loved how they talked to one another through music. I listened to the playlist as I read and wow – powerful! This is one of those stories that gave me a serious book hangover and will stay with me for a long time!
*ARC provided by author for honest review.
Buy Links ~ Amazon ~ B&N ~ Kobo
About the Author
Jasinda Wilder is a Michigan native with a penchant for titillating tales about sexy men and strong women.
When she's not writing, she's probably shopping, baking, or reading.
Some of her favorite authors include Nora Roberts, JR Ward, Sherrilyn Kenyon, Liliana Hart and Bella Andre.
She loves to travel and some of her favorite vacations spots are Las Vegas, New York City and Toledo, Ohio.
You can often find Jasinda drinking sweet red wine with frozen berries and eating a cupcake.
Connect with Jasinda:
website: http://www.jasindawilder.com/
facebook page: https://www.facebook.com/AuthorJasindaWilder?fref=ts
twitter: @JasindaWilder (https://twitter.com/JasindaWilder)
Amazon Author page: http://www.amazon.com/Jasinda-Wilder/e/B0095HTK0A/ref=sr_tc_2_0?qid=1363550721&sr=8-2-ent
Goodreads: http://www.goodreads.com/author/show/6521173.Jasinda_Wilder
Goodreads link for Falling Into You: http://www.goodreads.com/book/show/17448960-falling-into-you