Blog Tour: COME TO ME QUIETLY (Closer To You #1) by A.L. Jackson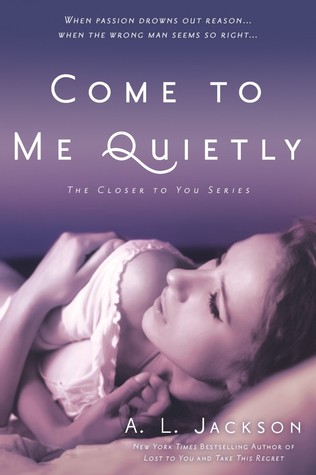 Release Date: January 7, 2014
Genre: New Adult Romance
Blog Tour hosted by: Shh Moms Reading, Literary Mania Reviews, and Brandee's Book Endings
Synopsis
From the acclaimed bestselling author of Lost to You and When We Collide comes a new adult novel of one woman's obsession: a man who's as passionate as he is elusive—and as tempting as he is trouble…
Aleena Moore is haunted by Jared Holt. It's been six years since she's seen her brother's best friend, the self-destructive bad boy she secretly loved in high school. As the years pass, she knows it's time to move on. Time to decide between a practical nursing degree and her true dream as an artist. Time to get over Jared and give another guy a chance…
Just when she opens her heart to her friend Gabe, Aly returns home to find Jared sleeping on her couch. The teenage boy she loved has grown into a man she can't resist.
Covered in tattoos and lost in rage, he's begging to be saved from his demons—the memories of the day he destroyed his family. As the two reconnect, their passion is hot enough to torch Aly's judgment. But can she risk her future for a man who lives on the edge of destruction?
Amazon ♥ Barnes & Noble ♥ iTunes ♥ Kobo
Dawn's Review 4.5 Stars
Beautifully written story by AL Jackson! This is my first book by AL but will certainly not be my last. I want to kick myself for having missed out on reading all of her previous works after reading Come to Me Quietly.
For me, this was one of those books that took me a little longer to read. Not because it was bad, but because it was so very good I didn't want it to end. I savored every delicious word that AL put into her story. I felt completely wrapped up in Aly and Jared's story from the very beginning.
One of the things I loved about CTMQ was the seamless way of bringing the past into the present. As the story unfolded in the present, a significant event from the past was overlaid upon it, enriching it and giving more depth to the current time. I also loved the immense amount of feelings CTMQ pulled from me. The emotional pain and aches along with the sensuous aspects had me practically holding my breath waiting for the next word to fall. And by the way, this is one that may pull a few tears from you so fair warning should you be reading in public, say at lunch surrounded by other diners?
Overall, this was a truly wonderful read and one that will stay in my heart and on my mind for a long time. AL's writing is captivating and paints a picture that will last long into my soul.
Abby's Review 4 stars
Aly has always held onto her heart for one man.  She has not let anyone else get close to her.  Kept her heart guarded because deep down she gave it away a long time ago.  Accept the man that she gave it to has been gone.
He steps back into Aly's life and he is damaged.  So often when reading, we read about a damaged female.  This is extremely refreshing in a way to have a man that is damaged and needs healing from a woman.  Jared, oh God, how you want to save him.  You want to hug him and tell him its going to be okay.
This story does move at a slower pace and I wished it moved a bit faster for me.  There were a few times where I felt like c'mon lets get it going.
Despite that I thought it was a well thought out story that had some extremely sweet moments.
ARC provided for honest review
Come To Me Quietly Book Trailer
Jared Holt: Micah Truitt ~ Aleena Moore: Phoebe Tonkin
A.L. Jackson is the New York Times bestselling author of Take This Regret and Lost to You, as well as other contemporary romance titles, including Pulled, When We Collide, and If Forever Comes.
She first found a love for writing during her days as a young mother and college student. She filled the journals she carried with short stories and poems used as an emotional outlet for the difficulties and joys she found in day-to-day life.
Years later, she shared a short story she'd been working on with her two closest friends and, with their encouragement, this story became her first full length novel. A.L. now spends her days writing in Southern Arizona where she lives with her husband and three children.
Look for Come to Me Softly, book two in the Closer To You Series, coming July 1, 2014
www.facebook.com/aljacksonauthor
http://bit.ly/ALJacksonGoodReads
Be sure to enter the COME TO ME QUIETLY Blog Tour Giveaway!!
Grand Prize: A.L. Jackson Complete Signed Paperback Collection (all six titles) + Come
To Me Quietly Poster and swag
Second Prize: Come To Me Quietly Collection, which includes a signed copy of Come
To Me Quietly, a Come To Me Quietly poster, keychain, and custom bookmark
Third Prize: A.L. Jackson Fun Pack stuffed full of A.L. Jackson book swag
Fourth Prize: Audiobook Gift Set from Audible.com of The Regret Series (Lost To You,
Take This Regret & If Forever Comes)
And don't miss the DAILY blog tour giveaways on A.L. Jackson's Facebook accounts! All kinds of fun stuff will be given away ~ ebooks, gift cards, and much more! EVERY DAY from January 7th – February 7th!!