Blitz~~Queen of the Knight by @Lydia_Michaels #5BLUSHREVIEW

Book 2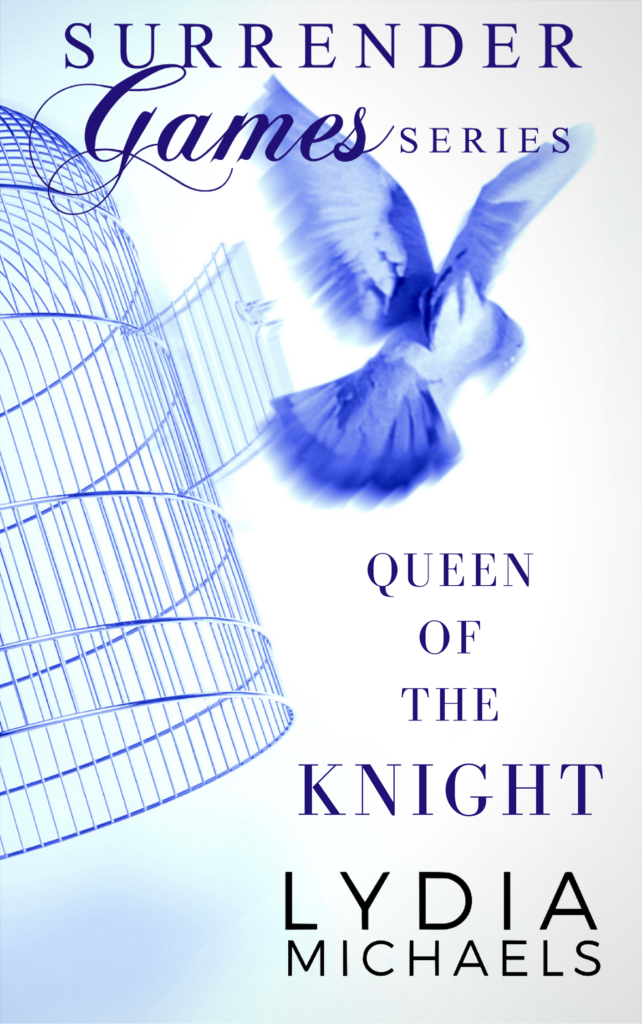 Title: Queen of the Knight (Surender Games 2)
Release Date: October 24, 2017
Length: 300 pages
Genre: Contemporary Romance
Format: Print & eBook
Amazon: http://amzn.to/2yO94ke
Other Retailers: http://bit.ly/Book2Book_SurrenderGames_Queen
Goodreads: https://www.goodreads.com/book/show/36121559-queen-of-the-knight
Queen of the Knight (Surrender Games 2)
The game has changed and no player's position is safe…
In a world of power, money, deceit, and lust, no player is exactly how they seem. Love and trust are at stake when the game is changed and old enemies come out of hiding, disguised as friends.
Isadora Patras must proceed wisely. After thirteen years of heartbreak and denial, she no longer trusts her instincts. One man embodies her past, the other could be her future, but which one holds her heart? Isadora must choose between her family and two very different men. Either way, her choice could cost her everything.
In a game of kings, bishops, rooks, and knights there are no guarantees. But if Isadora wants to be a Queen, someone will have to lose.
The Surrender Games Series should be read after The Surrender Trilogy.
*Book 3 expected in 2018 (H/h shift in series)
Stephanie's 5 Blush Up All Night Review
Queen of the Knight picks up where Sacrifice of the Pawn ends. Parker Hughes had literally run into a fleeing Isadora Patras. Having had her heart broken again, she was trying to get away and lick her wounds. Parker steps in and takes her away from the situation. They talk for hours and a connection is quickly made. Isadora realizes that her family may be looking for her. A quick text brings her sister and family to find her. The story ends as her family approaches. The realization quickly sets in for everyone except Isadora as to who she is with. These were my favorite lines:
"Parker?"
"Holy.Shit."
Queen of the Knight is beautifully written. The details and descriptions are flowing from page to page. The connection between Parker and Isadora is intense and yet so easy. It is complicated due to their connecting family and friends. Isadora is tired of the men in her life telling her what to do or how to feel. She wants to get to know Parker.
He seemed genuinely interested in her as a person, like she was her own entity, already interesting enough.
On some level they are so much alike. Both suffering loss. Both living with mistakes that they have made, some because of greed, others because of inexperience.
Parker literally fillets his heart open to Isadora. He doesn't want his past to come between them. He is honest, romantic, and playful.
"If I could take back some of my choices I would, but sometimes our mistakes lead us to the right place."
The story comes full circle. The past and the present collide. Eventually, choices must be made. Parker or Sawyer. Then comes the sucker punch. A turn I did not expect. We watch things change and wonder what the outcome will be. Also there is an amazing scene when Parker and Isadora have their first kiss. My heart was leaping out of my chest!
"Sometimes life changes in the blink of an eye. Sometimes it's bad, but a lot of times it's good. You just have to keep an eye open for the possibilities."
Beautifully written. And we get another book!!!! Will it be Toni? Slade? I am so excited! In order to enjoy this series you must first read the Surrender Trilogy. You will not be disappointed!
"Love decides for us, not the other way around. It's everything we were and will be, folded into an emotion too powerful to control."
Come and fall in love!
Excerpt:
"You don't know how to answer a phone?" Lucian barked the second he stepped into the den.
"Good morning, Lucian."
He scowled. "I called you over a dozen times."
"I know. I was busy."
"When did you get home?"
Isadora stood and put her book on the table. After righting the pillows, she walked past him toward the kitchen. It was almost lunch and she was in the mood for a salad.
"Isadora."
"Yes?" she called, making her way to the fridge.
"Are you going to tell me what happened?"
She pulled out some lettuce, tomatoes, tuna, and—ooh, peppers. "No."
Setting the cutting board on the granite countertop, she withdrew the serrated knife from the butcher block. Lucian continued to scowl.
"I'm sorry, did you want some?" She gestured to the food with the knife.
"I didn't come here to eat."
"I know. You came here to badger me for information. Unfortunately, all I can offer is tuna salad. The details of my personal life are off limits."
"You're making a mistake."
"Am I? Hmm, I wonder what that's like." She shrugged. "I'm pretty sure I'm due."
"What the hell has gotten into you? This isn't you. You're the sensible one."
She shrugged, scooping the chopped tomatoes into the bowl. "People change, Lucian."
He scoffed. "You don't."
She put down the knife and stared at him—insulted. "Why can't I change? I've always done everything everyone expected of me and I've never asked for anything in return. You and Toni got everything you wanted and now you're both out of this house, living the lives you've chosen, and I'm stuck here wondering where my place is. Something has to change, Lucian, because I can't go on living like this. I'm not satisfied that this is as good as it gets. I want more."
"I'm not saying you can't have a life, Isa. I want you to be happy. But Parker Hughes is a manipulative little—"
"Hey!" She pointed the knife at him. "I understand he's not your favorite person, I can even sympathize with some of your reasoning—though I don't know all the details—but he's someone I'm still trying to figure out. Respect me enough to let me draw my own conclusions."
"Whatever he told you, I'm almost positive it's all bullshit. The kid's a liar."
"First, he's not a kid. Second, what he told me did him no favors, so I wouldn't be so sure he's lying."
"You wouldn't trust him if you knew who he really was." He followed her to the table.
"Really? Is he not the man who tried to steal Evelyn away from you? The same man who took a job at Leningrad, causing a huge fight between you and Slade, which in turn ruined our lifelong friendship with the Bishops?"
He blinked at her for a solid ten seconds. "And knowing all that you still want to associate with him?"
"People make mistakes, Lucian."
"Jesus Christ, Isadora, why are you being so stubborn about this?"
"Because!" She paused, then admitted, "I like him." Saying it out loud felt really good.
"God help me…"
"Look, I'm not saying I'll see him again. I may not even talk to him again, but last night… Something terrible happened to me. Then I ran into Parker and he … helped me. He was an absolute gentleman until you showed up."
He frowned. "What happened last night?"
"Nothing you need to worry about." She wiped her mouth. "I'm just saying—"
"What the hell happened to your face?" His eyes darkened and he growled, "Is that a bruise?"
She rolled her eyes. "I bumped into something and fell over. I'm fine."
"Were you drunk?"
"No, I wasn't drunk! I wasn't looking where I was going. But I will say the moment I fell Parker was there, insisting he get me some ice and that I sit down for a minute."
"I think he knew who you were. I don't believe for a second he was surprised by your name last night. I won't let him use you in some vendetta."
"Sorry to disappoint you, Lucian, but I think he's over you. But thanks for implying the only reason a man would be nice to me is to get close to my brother. Always what a woman wants to hear."
"Not a man. A snake."
"Look," she snapped, done justifying herself. "I appreciate your concern, but I'm not going into this with my eyes shut. I'm a big girl."
His jaw ticked. "I don't want to see you get hurt."
"Sometimes that's part of life. I've been hurt before and I'm still here."
He threw his hands up in frustration and slammed them on the table, causing her to jump. "Goddamn it, Isa, he's in love with Evelyn!"
She countered his rage with calmness. "No, Lucian. He was in love with a kid named Scout. Evelyn's your devoted wife. And people accidentally fall in love with the wrong people all the time. I wouldn't expect a man his age to have never loved before."
"This is ridiculous. Doesn't it bother you that his father was Dad's nemesis?"
She laughed, really laughed. "I'm sorry. Are you referring to the father you hated for most of your life? The one who walked out on us when I was fifteen? Or the man who forgets my birthday every year? Which father, Lucian? Or maybe it's the one who never once—not in his entire life—thanked me for raising his children. Which one am I supposed to be loyal to?"
"All right, you've made your point. I just don't understand why you can't like someone else. Why him?"
"I haven't even decided if I'm going to call him! You're the one treating this like a betrothal."
The doorbell rang and she stood. "I have to get that."
She went to the door and a deliveryman dressed in brown greeted her. "Isadora Patras?"
"Yes."
"Sign here, please."
She scribbled her signature on the electronic scanner.
"Here you go."
She took the flat package. "Thank you."
Turning around, she saw Lucian had followed her from the kitchen. "What's that?"
"I don't know." She peeled open the envelope and laughed as the sleek, stiff cover of a book peeked past the seal. She pulled it out and smiled at the sketch of a Grinch sneering back at her.
Lucian frowned as he watched her. "Is that a children's book?"
"Mm-hm," she answered, still smiling. "It's How the Grinch Stole Christmas."
"It's March."
"I know." She opened it to the title page and was deeply pleased to find a note.
"The most likely reason of all… may have been a heart two sizes too small."
So glad we met. I think my heart grew three whole sizes yesterday—the biggest yet.
Thinking of you…
~Parker
"Who sent that?"
She snapped the book shut and held it protectively to her chest. "You're nosier than an old lady at a stitch and bitch. Don't you have a million other things you should be doing?"
"He sent it, didn't he?"
She rolled her eyes, groaning as she walked away, returning to her lunch. "Goodbye, Lucian."
"He's after something!" her brother yelled.
"I hope it's me," she murmured under her breath, snickering.
Author Social Links
Facebook: https://www.facebook.com/LydiaMichaels
Twitter: @Lydia_Michaels  |  https://twitter.com/Lydia_Michaels
Pinterest: https://www.pinterest.com/Lydia_Michaels/
YouTube: https://www.youtube.com/user/lydiamichaels2011
Lydia Michaels Website: www.LydiaMichaelsBooks.com
Newsletter: www.LydiaMichaelsBooks.com/Newsletter
---
Author Info
About Lydia Michaels
Lydia Michaels is the award winning author of over 30 romance novels. Her novels from the darkly compelling Surrender Trilogy were Apple iBooks Bestsellers and her work has been featured in USA Today. In 2015 she was the winner of The Best of Bucks Award and she has been nominated as Best Author in the Happenings Magazine two years running [2015 & 2016]. She is a four time nominee for the prestigious RONE Award. Her books are intellectual, emotional, haunting, always centered around love. Lydia Michaels loves to hear from readers! She can be contacted by email at Lydia@LydiaMichaelsBooks.com
Webpage: www.LydiaMichaelsBooks.com