Beautiful Things Never Last by Steph Campbell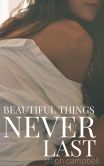 Overview 3.75 stars
It's been a year since Quinn's life was changed for good by that Christmas kiss from Ben.
A year spent getting her life together. No more crazy parents looking over her shoulder, no more self-destructive behavior or secrets. Now, she and Ben share everything— including a tiny apartment, and a beautiful love.
Since he met Quinn, Ben's life has been full of change. After finally standing up to his mom, he's cut ties with his family and moved across the country with the only girl he's ever wanted. But there's something to be said for feeling needed, and he's not sure that he is anymore.
When Quinn's accepted into a month long culinary program in Italy, she's ecstatic. But while she's in a gorgeous country learning gnocchi and pesto, Ben's blowing off her calls and pulling back.
But someone from Ben's past walks back into his life, and he finally feels like he has a purpose again. Someone to take care of… Someone to save.
When Quinn returns, and the who's and why's of Ben's behavior are revealed, how does she have any choice but to walk away from the only guy she's ever loved?
And how can Ben ever learn to let her go?
In this follow-up to the 2011 release, GROUNDING QUINN, love and loss take on new meanings when roles are reversed, and the lengths that we go to to protect our hearts are challenged in new ways.
______________________________________
"You told me a long time ago that beautiful things never last.  But I think you are wrong.  I think they can.  If you fight for them.  If you let them change, Quinn.  They can morph into something even better.  If you make it work."
This is a follow-up story to Grounding Quinn.  Quinn and Ben are living together in California pursuing their dreams.  From the dedication in this book through-out there were a lot of great amazing lines.
Dedication:
Beautiful things never last is a love letter to those that are brave enough to give second chances, accept that sometimes love is messy and hard-even when it's good, and those that can open their hearts wide enough to allow forgiveness in…
That dedication alone screams read me.
This is a story about understanding that no two people are flawless and that often in relationships people make mistakes and perhaps its how you manage to grow with that, that will show the strength of a relationship.
This was cute.  It was not as powerful as Grounding Quinn but it had many nice moments.  I also thought that it could use a little more editing as I found some inconsistencies in the story.  Quinn was leaving for a month and she tells someone that she is leaving for two months I stopped for a second thinking that she was lying to Ben and eventually just realized it was an error.
Even with that I found myself highlighting all over the place because Steph delivers swoon worthy lines.   Things you wonder if a man could possibly say things like that, because they are so special that you wonder if any man that good could exist.