Beautiful Disaster by Jamie McGuire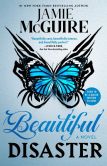 Overview  If ever there was a book to give 6 stars to
The new Abby Abernathy is a good girl. She doesn't drink or swear, and she has the appropriate number of cardigans in her wardrobe. Abby believes she has enough distance from the darkness of her past, but when she arrives at college with her best friend, her path to a new beginning is quickly challenged by Eastern University's Walking One-Night Stand.
Travis Maddox, lean, cut, and covered in tattoos, is exactly what Abby wants—and needs—to avoid. He spends his nights winning money in a floating fight ring, and his days as the ultimate college campus charmer. Intrigued by Abby's resistance to his appeal, Travis tricks her into his daily life with a simple bet. If he loses, he must remain abstinent for a month. If Abby loses, she must live in Travis's apartment for the same amount of time. Either way, Travis has no idea that he has met his match.
——————————————————————————–
Holy crap!  What was I waiting for.  Me and my internal rules about how much I am aloud to spend on a book.  I know everyone loves this book, I guess I was not prepared for how much I would love it.
Do you ever read something from an author and then everything else on your tbr list goes out the window because you need to spend the next week reading everything the author has written? Well it was that way for me when I read Nicole Williams and now Jamie McGuire has pulled me in the same way.
No wonder there is Travis fever, the way she writes makes you want to keep going even when it is over so you can be absolutely glad that there is a sequel coming out.
So what is all the hype, well this is a perfectly f*#*ed up love story and you will love it!
If I had a six star category I would give it to this book.  I read an incredible amount of books and one thing that starts to irritate me is when not that much happens in a story.  I hate it when an entire book is about two people working out their conflict and not a lot of other stuff happens.  Well lucky for me that is not this book.  This book has a lot happen and it was one of the many reasons I loved it.  There was a perfect amount of love, life, conflict, friendships, and blood splatter going on.
I often struggle with the idea of a book turning into a movie because well lets face it, movies can rarely capture everything the way the imagination does, but something about the way this was told it was like a well made movie playing before my eyes.
"I know we're fucked up , all right?  I'm impulsive and hot-tempered, and you get under my skin like no one else.  You act like you hate me one minute, and then you need me the next.  I never get anything right, and I don't deserve you….but I fucking love you, Abby.  I love you more than I've loved anyone or anything, ever.  When you are around, I don't need booze or money or fighting or the one-night stands….all I need is you.  You're all I think about.  You're all I dream about.  You're all I want."
I am officially joining the rest of social media in my, I can't wait for Walking Disaster mania.
Meet the Author
Jamie McGuire is the author of the New York Times bestseller Beautiful Disaster and The Providence Trilogy. She and her husband, Jeff, live with their children just outside Enid, Oklahoma, with three dogs, five horses, and a cat named Rooster. Please visit JamieMcGuire.com.