Audible Review ~~ The Flight of Hope by HJ Bellus

Author: H.J. Bellus
Narrators: Lacy Laurel
Length: 8 hours 26 minutes
Publisher: Heidi J. Hooper
Released: Nov. 15, 2017
Genre: Contemporary Romance


A tragic accident. A mother in mourning. Can a second chance rise from the wreckage?

Marlee Foster's life was just getting started. She couldn't wait for the return of her husband from deployment. After all, he'd be there just in time for the birth of their daughter. The welcome home party is full of joy, but on the way home, tragedy strikes…

When Marlee loses her husband and daughter, her friends and family do their best to heal her broken heart. But painful reminders of a future she'll never see haunt her every day in the small town. Her only hope at a second chance is to leave it all behind…

As she sets out on a soul-searching adventure, the mourning widow wonders if the wilderness will give her hope for a brighter future or if she'll forever be chained to a devastating past. During her journey, Marlee is about to learn that love has a funny way of coming back to those who need it the most…

The Flight of Hope is a heart-wrenching contemporary romance in the vein of Nicholas Sparks. If you like emotional journeys, strong-willed heroines, and second chance romances, then you'll love HJ Bellus' touching tale.




AUDIBLE CLIP
https://soundcloud.com/user-183194142/the-flight-of-hope-sample-2

HJ Bellus is a small town girl who loves the art of storytelling. When not making readers laugh or cry, she's a part-time livestock wrangler that can be found in the middle of Idaho, shotgunning a beer while listening to some Miranda Lambert on her Beats and rocking out in her boots.


Lacy lives the life of a full time wife, mother and household manager. Needing a temporary escape from time to time Lacy returned back to her first love – reading! After devouring everything she could get her hands on she thought, -what if she could mix her love of performance and literature in a professional capacity? Once getting involved in the world of book narration she quickly became hooked and when not with her family you can find her in her studio working hard to grow in her own storytelling abilities.

LOUISA'S 4 BLUSH AUDIBLE REVIEW
I saw the synopsis and knew this was a book for me.  As a fan of second chance romance, I HAD to listen to it!  After reading the synopsis – I knew that something awful was going to happen, I just didn't know when. I was falling in love with Bailey and Marley's love story but when I least expected it HJ Bellus took my heart and broke into a million pieces.  My sadness for Marley and her family and the loss of her dreams was heart wrenching.  She runs…as I can only imagine I would do.
Being alone, isolated and drinking her life away, Marley is given a second chance with a country star that is about to begin the fight of his life.  They are healing to each other and watching them grow and learn to love was beautiful.
Jed is a brudding country star with a family that loves him but he's closed down, except when it comes to his little boy Fender. The interactions between Jed and his some will make your heart melt.  Jed's twin brother's antics will make you smile and laugh when you need it the most!
The narration was perfect for me and this narrator brought their love story to life for me.
I received this audiobook as part of my participation in a blog tour with Audiobookworm Promotions. The tour is being sponsored by Lacy Laurel. The gifting of this audiobook did not affect my opinion of it.

Q&A with Narrator Lacy Laurel
When did you know you wanted to be an audiobook narrator?

I was listening to more and more audiobooks and I just kept getting the urge to do it.

How did you wind up narrating audiobooks? Was it always your goal or was it something you stumbled into by chance?

I just researched until I found ACX, and on their website it talked about what you needed, how to do it and I just went for it.

Did you find it difficult to "break into" audiobook narration? What skill/tool helped you the most when getting started?

No, it was not difficult to break in but to stay in is a totally different story.

A lot of narrators seem to have a background in theatre. Is that something you think is essential to a successful narration career?

I don't know if it's essential, I have a very limited background from when I was in school. I love theater. However now I do find training very important. Getting an instructor for the type of narration you want to perform, attend seminars and classes in both performance and audio technology – you should really know how to use the equipment you are utilizing and some 'employers' will only accept your work if you are using certain technology.
What type of training have you undergone?

I am seeing a coach for non-fiction (Sean Pratt-@SPPresents) and another for fiction (Andi Arndt – @andi_arndt). Between the two a variety of topics in narration and the business of narration are covered. I see improvement every time I have a session, which is really encouraging, I am lucky that although I may not have years of professional acting or collegiate acting training I am able to utilize my coaches to help me improve and to learn more about what it is that I do.

How do you manage to avoid burn-out? What do you do to maintain your enthusiasm for narrating?

For me it is a combination of things. Because of the performance aspect, if I am not feeing it, I try not to push through. I will walk away and do some of the many other things I am responsible for in real life. My hours are really flexible because I work out of a home studio, so sometimes it is just as simple as hanging out with the family. Other times, I find that listening to others narrate in the genre's I work in really helps. Especially when they are good they will motivate me to want to get back in the booth.

Are you an audiobook listener? What about the audiobook format appeals to you?

Yes I am constantly listening! I love audiobooks! For me, I find myself listening while I am doing housework or playing the driver to the kids.

What are your favorite and least favorite parts of narrating an audiobook?

My favorite is recording, getting to immerse myself into another world. I also love the read through of the book; it really gets me excited and helps me to plan out where I am going to go. I guess editing is my least favorite part, but only in comparison to the other parts, I love to do it, just not as much as performing or reading.

What about this title compelled you to audition as narrator?

It is exactly the story I would read as a consumer, and if it has my attention in that way then I want to audition because I know I will have fun with it while recording.

How closely do you prefer to work with authors?

I love having input from the authors, although every relationship is not the same. I do prefer it when even if they are not the ones who hire me, they have made the decision to have me be the voice of their book.

What's next for you?

Project wise I am getting ready to dive into Thicker than Water by Dylan Allen and I am so very excited for it! I get to work with D.C. Cole for the first time, and then just the story itself! It is a slow burn, giving the romance lovers the angst that we love but it also has social commentary in it, which in this day and age is important to showcase.

Jan. 7th:
Jan. 8th:
Jan. 9th:
Jan. 10th:
Jan. 11th:
Jan. 12th:
Jan. 13th:
Blushing Babes Are Up All Night Book Blog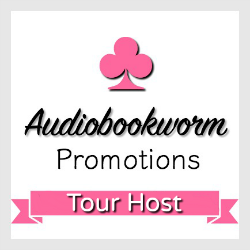 ➜Sign up as a host here