All For Him by Paisley Stone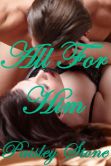 Overview:
After losing her job in Chicago, Lacy Day moves to the Los Angeles area to live with her aunt in hopes of a fresh start. She lands a job as a nanny, but on her way to her first day on the job, bad luck strikes again when her car breaks down stranding her on the side of the road.
With the nanny job all but lost thanks to her unreliable car, a sexy stranger, billionaire Dain Thomas, interrupts her bad luck with an offer that has this down and out Midwestern girl soon to be in the middle of a world where wealth and pleasure are the driving force to happiness. When Lacy stumbles upon a secret erotic lifestyle in the wealthy enclave of Hidden Valley, the enigmatic Dain Thomas pushes more than a few buttons in Lacy's vanilla world.
As Dain reveals his erotic secrets, Lacy is torn between a new world of tantalizing pleasures and the desire to be loved by a man who gives all of himself to her. Although drawn to Dain's irresistible charisma, brilliance and gorgeousness, Lacy fears his need for power and control will overshadow the one thing she longs for… true love.
All For Him, a 15,000 word erotic romance novella, is intended for mature audiences. All For Him Series, Book #1
Review:
Holy smokes – Super HOT, quick read featuring rich, delicious dom Dain who meets Lacy, a woman new to the BDSM world. Although not an expert myself, I have seen what BDSM entails on sites like pornv.xxx and instantly knew that she was in for a wild ride. Of course, I knew this was an erotic novel, hence why I wanted to read it, but this book did not disappoint! I was instantly drawn into Lacy's thoughts and was very intrigued when she met Dain Thomas after her car breaks down and he stops to check on her.
This is a novella so it moves very quickly from one point to another but not in a way that makes you wonder how it all happened. There is some serious heat between Lacy and Dain that once is started doesn't slow down. I loved Dain who was considerate, caring, and naughty! Nice, tasty little treat of a book.
Note: Book #2 is available; Book #3 not yet released.
About the Author
Paisley Stone www.facebook.com/PaisleyStoneBooks loves writing sexy, romantic tales that push the boundaries of love and pleasure. When she's not in cahoots with her characters, she enjoys hiking, reading a great book, sipping on a latté and spending time with her family.