Against All Odds Angie McKeon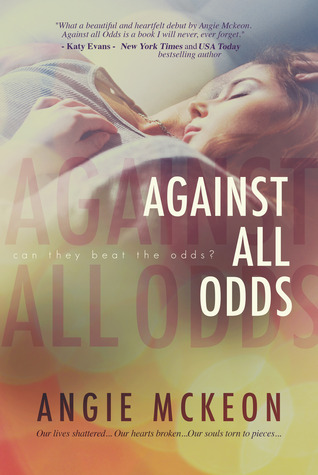 Our lives shattered… Our hearts broken… Our souls torn to pieces…
He was my world, my whole life. My reason for breathing. I had a perfect marriage, a baby on the way, and I felt fulfilled—almost invincible.
Until the day life hit, leaving me broken, vulnerable, and alone.
She was my life. My ray of hope on the cloudiest day. With her, I thought I had the ultimate safety. A love that would never hurt or betray me. I gave her my heart, my body, and my soul.
Until she broke me, destroying every dream and illusion I had about life, love, and marriage.
In our grief, we made a mistake. A mistake I'm not sure we can come back from.
Kristine's Review 5 stars
I couldn't express more how excited I was to see this book on my kindle screen! The first two pages and I was hooked while tears streamed down my face. Yes the first two pages and I was balling like baby, and the chills, every emotional word sent them wild! While waiting so long for this book to come out, I did have high expectations and was beyond thrilled that Angie went their and blew them away, while saying WoW, this is just amazing! This is why I read and will never stop reading!
Angie McKeon, took such a painfully topic and expressed it with such expertise that I felt like I was going through it. The characters were developed very well and were able to feel for them like they are your best friends. I fell in love with Kylie, Cooper and Grayson, so much that weeks later I'm still thinking of them! We got to know them through angst, humor, fury and little things like starbucks, shoes and chocolate.
I loved taking the emotional rollercostar in this one! Two people going through so much after a horrific event, How do they get through this? Is their love for eachother enough? Will they get through all the obsticles that people and events put in front of them?
"I see two people who can't live without each other but don't know how to live with one another. I see a man who's angry and wants to hurt me. A man who enjoys putting me down. A man who has no problem sharing his wife, and a man who doesn't know what he wants. I don't know if you love me anymore. I don't even know if you care." ~ Kylie
THIS IS A MUST READ!!!!
I rated this book a five stars if I could I would rate it more! I am a reader that loves to feel. When a story makes me feel either happy or sad it made me feel and that is what I love. I get emotionally attachted and that is exactly what Angie did she made me cry, smile, scream, laugh, and cry again! she made my emotions drive me insane, but I loved every minute of it!!! Keep it up Angie, I can't wait for the next read cause I am totally fangirl crazed about you!!
" We've both learned that love is not perfect. It doesn't come in pretty packages. Sometimes it dents and bruises and does things it regrets, but it also forgives, shows mercy, and supports. It soothes and fights to the death." ~Cooper
About this author
A multi-tasker from birth—and now proudly able to add 'writer' to my resume—I'm a mother, wife and blogger. I love to read, write and drink copious amounts of iced coffee.
All three aforementioned addictions are detrimental to my sanity.
I have a voracious appetite for dark, painful and twisted reads. I'm enamored with the concept of love and heart break. I believe life is a journey, a tale in its own for each of us. The road to happiness is sometimes paved with stones from hell, or glitters of satisfaction graced from the heavens above.
In my upcoming debut novel, 'Against All Odds,' I strive to make you feel. I believe any emotion—whether painful or happy—is good. To me, the key to living is to go through life feeling its ups and downs. Love is dark and it can be painful but, at the end of the day, it can save the most lost of souls and the most broken of hearts.
You can find me here:
Facebook: https://www.facebook.com/angiemckeona…
Twitter: https://twitter.com/Angie_McKeon
Website: http://angiemckeon.blogspot.com/
Goodreads: https://www.goodreads.com/author/show…
(less)