A Song for Julia, by Charles Sheehan-Miles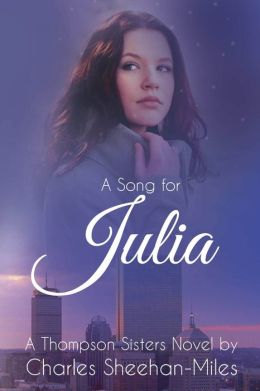 Overview
Everyone should have something to rebel against.
Crank Wilson left his South Boston home at sixteen to start a punk band and burn out his rage at the world. Six years later, he's still at odds with his father, a Boston cop, and doesn't ever speak to his mother. The only relationship that really matters is with his younger brother, but watching out for Sean can be a full-time job.
The one thing Crank wants in life is to be left the hell alone to write his music and drive his band to success.
Julia Thompson left a secret behind in Beijing that exploded into scandal in Washington, DC, threatening her father's career and dominating her family's life. Now, in her senior year at Harvard, she's haunted by a voice from her past and refuses to ever lose control of her emotions again, especially when it comes to a guy.
When Julia and Crank meet at an anti-war protest in Washington in the fall of 2002, the connection between them is so powerful it threatens to tear everything apart.
________________________________________________
I read another story by Charles Sheehan-Miles about 5 months ago, Just Remember to Breathe.  I enjoyed it.  It wasn't until I was really into  of A Song for Julia that I smacked myself on the head and said OMG this story is about Alex's older sister Julia from Just Remember to Breathe.  These are all stand alone books, however I personally would suggest to read A song for Julia first.
Crank is a punk rocker.  I love this about him.  Personally, having a very raw understanding of punk rock, this had me hooked from the start.  He is a  musician, a punk rocker with edge and sexy.
Julia is a well educated woman from a very influential family.  She has had her own very real turmoil in her life.
This is a story of two very different people, whom despite their very obvious differences, are attracted to each other.  This is about taking obvious stereotypes, overcoming them, and loving people for exactly who they are.
There is something about the way that Charles Sheehan-Miles writes about family that is so endearing.  This story is a love story but it is also a story about Julia and her family relationships.  I love that this is a huge focus.  Sometimes in stories these very important relationships are over looked.  I balled in this story, not because of the issues between Crank and Julia, but because of the issues between Julia and her mom.
After reading this story, I loved Just Remember to Breathe much more than I originally did.  I felt like I got so much more about the parents and it just made me feel more for every character.
This is a beautiful story filled with forgiveness, self discovery and love.  I give this 5 huge stars.
There is another Thompson sister story that will also be available
Meet the Author
Charles Sheehan-Miles has been a soldier, computer programmer, short-order cook and non-profit executive. He is the author of several fiction and non-fiction books, including the indie bestsellers Republic: A Novel of America's Future and Just Remember to Breathe. He served in combat with the 24th Infantry Division during the 1991 Gulf War, and was decorated for valor for helping rescue fellow tank crewmen from a burning tank during the Battle at Rumayla. Since then, he has been a regular speaker on issues relating to the Gulf War, ill veterans and the impact of post-traumatic stress. He is a former President and co-founder of the National Gulf War Resource Center and has served on the board of the Education for Peace in Iraq Center. Prior to becoming executive director of Veterans for Common Sense in August 2004, he was director of the Nuclear Policy Research Institute in Washington, DC. He continues to serve on the board of directors of Veterans for Common Sense. Charles currently manages a restaurant in Atlanta, Georgia, where he lives with his wife Veronica and their two children, along with two alien invaders from outer space disguised as small furry animals.
http://www.barnesandnoble.com/buynow?ean=2940015799866&isfreesample=N&isfreetrial=N&productcode=ER